The images below link current events to the SDGs. In the first case current events are posing a challenge to reaching the SDGs. We can see how disputes between governments are hindering working together to bring about sustainable development. We could also present this as a potential harmful industry like fishing driving disagreement between governments and limiting partnership to reach the goals.
The second image displays a more positive case, building wind turbine plants to aid in reducing emissions and conversion to renewable power generation. We should however, consider the impacts to life under water when building such structures.
Viewing current events through the lens of the SDGs or reviewing how current events are helping or hindering the SDGs can demonstrate where activism or application of the SDGs is needed. It can also provide examples of effective practice to promote global action. This kind of thinking is key to ensure application of the SDGs is grounded in real world events and all the challenges that poses!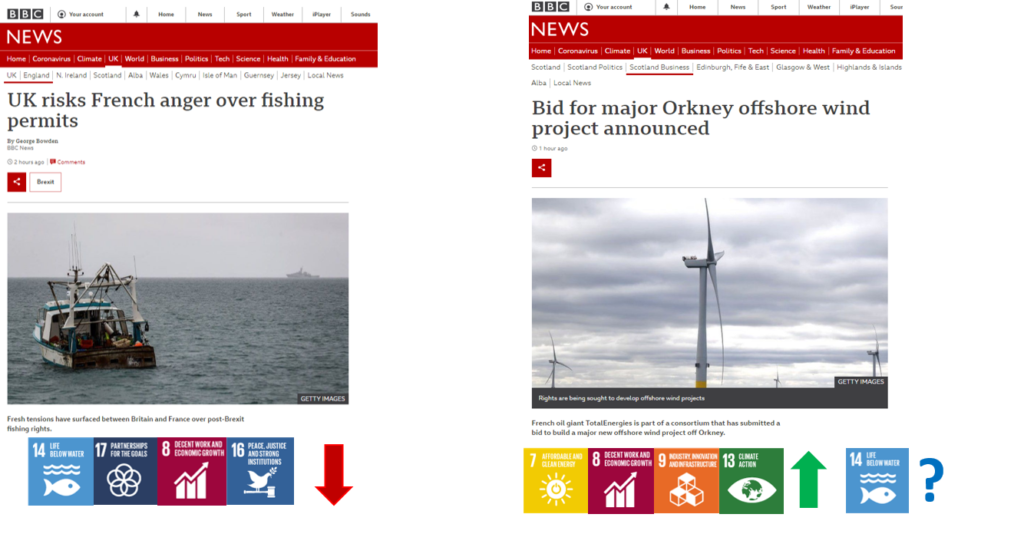 Apply Your Thinking

:

 

Explore current events through the SDGs

You should now find current events of your own that are supporting or hindering the SDGs. Try to find an example of each. Pick two events and link them positively or negatively to the SDGs. You may use the UN SDG website for this or any reputable news outlet. Ensure you are aware of any potential bias in your source!