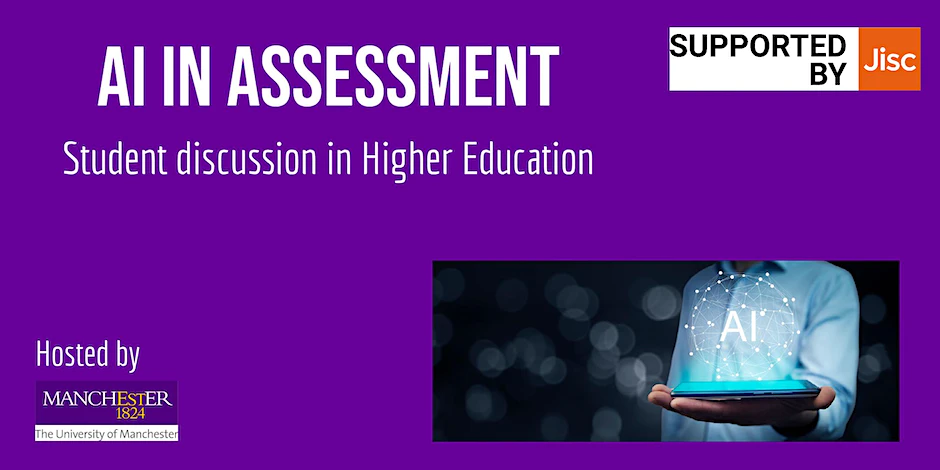 //REWORK THIS
Activity: Takes place with a fixed time and schedule
19th April
12:30 to 15:30
You will earn 15 bronze points for completing this activity.
Log In To Book
Jisc AI in Assessment - Student discussions
The National Centre for AI in tertiary education invite Higher Education Students to discuss the use of AI in their Assessment
The JISC National Centre for AI in tertiary education has a national collaboration project looking into AI in Assessment for UK Universities. Details on this centre can be found here: https://www.jisc.ac.uk/rd/projects/national-ai-centre
To support their national collaboration we need to understand student perceptions of AI in Assessment.
This opportunity is available for local Manchester students from the following Universities:
University of Manchester
Manchester Metropolitan University
Salford University
Bolton University
Please note that if you attend this event, you'll need to submit a self-claim to get your Rise Points.
In A Nutshell...
Play an important role... in the current discussion of AI in higher education
Contribute... to the National Centre for AI in their objective to understand student's perspective on AI
Be proactive... and put forward your ideas to promote a valuable discussion
Collaborate and network... with Manchester based students from different universities
Earn up to 15 Rise points ... which can be recognised within your degree.
Schedule
12:30 to 15:30 on 19/04/23 - The University of Manchester




Jisc AI in Assessment - Student discussion

Join the student focus group to discuss the use of AI in higher education assessments