This sprint presents a different outlook on sustainability through the examination of Rio Tinto, a large corporation focused on mining which is an industry traditionally viewed as unsustainable (Kapelus 2002).
This is included here for several reasons:
It is important to remember that to achieve goals of sustainable development all aspects of society must contribute to sustainability. As such it is key we pressure the largest businesses and corporations to act sustainably and we must also critically evaluate their efforts to do so. The paper by Kapelus below demonstrates an example of this.
We can potentially view these efforts as positive steps towards sustainability but only after we examine them under extreme scrutiny to determine if they are really having a positive impact or only applying their Public Relations (PR) budget.
They provide a case of an extremely large global corporation working within the UN SDG framework as you will see in their report.
In the Global North we consume many resources produced by these companies (where did the minerals in the screen you are reading this on come from?). These resources are often extracted from the Global South where rates of poverty are higher and environmental protection is lower (driven by historic overexploitation) as such we are all culpable in these companies' actions and should be aware of how they operate.
Keeping all the above in mind complete the activity below.
Apply Your Thinking
:
Review the 2020 Rio Tinto Sustainability Report and critically evalute their efforts towards the SDGs
Explore the online Rio Tinto Sustainability Report here: https://www.riotinto.com/invest/reports/sustainability-report Think about the following questions and the general themes discussed above:
1. Which of the SDGs are impacted by Rio Tinto's activities?
2. Are these positive or negative impacts?
3. Do you think Rio Tinto is a sustainable enterprise?
4. Why do you think we, as a global community, are extracting minerals at such large scales? Is there an alternative?
The link below outlines the story of the desctruction of the Juukan Gorge discussed in the report.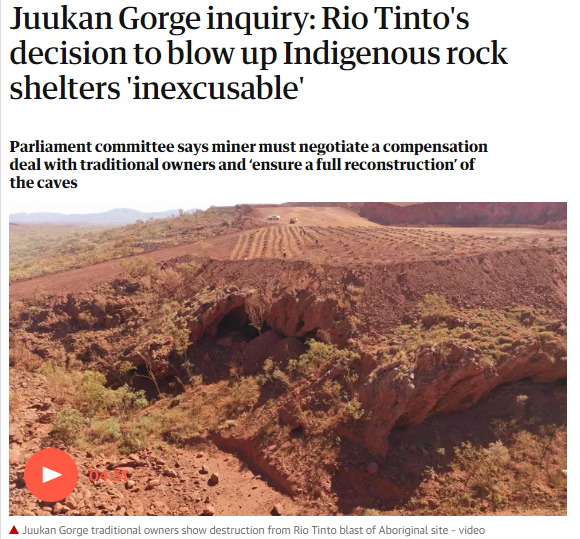 Read
:
Mining, Corporate Social Responsibility and the "Community": The Case of Rio Tinto, Richards Bay Minerals and the Mbonambi