Volunteering is both incredibly important on an individual level but also at an organisation level. Many charities in the sector rely heavily on volunteers and they do an excellent job in supporting and extending the services that are provided across the sector. But volunteers need to be aware of the potential challenges they may face in their role.
As we talked about earlier, refugees and asylum seekers aren't a homogenous group of people and we must always remember that. It's key to not make assumptions or judgements based on someone's immigration status as it fails to take into account their life experiences and background. You need to take time to get to know someone on an individual level and figure out how to work well together.
An important consideration is around power dynamics. There will be a lot of invisible things going on in terms of how people engage and interact with one another based on age, gender, role etc that can make it hard to have a genuine connection. For example, meeting for coffee is a lovely thing to do, but in many countries hospitality is very important. You may be able to spend a lot on an expensive coffee in a city centre cafe, but it could be hard for an asylum seeker to do that, and they would want to return that hospitality and to not be able to would be difficult. Often, if volunteers and Sanctuary Seekers are meeting, I suggest doing something that doesn't cost much, like visiting a museum or art gallery, going for a walk, playing football and bringing a snack from home. This removes the financial burden and makes things more equal.
Tim Hilton ( 2022). REFUGEE ACTION
Read about how Refugee Action are addressing power dynamics at an organisational level.
Watch
:
Volunteering with refugees and asylum seekers.
Rise (2022)
Hear Steve and Roger talking about their experiences volunteering.
Watch
:
Volunteering Experiences.
Rise (2022)
Tess talks about what it's like to volunteer.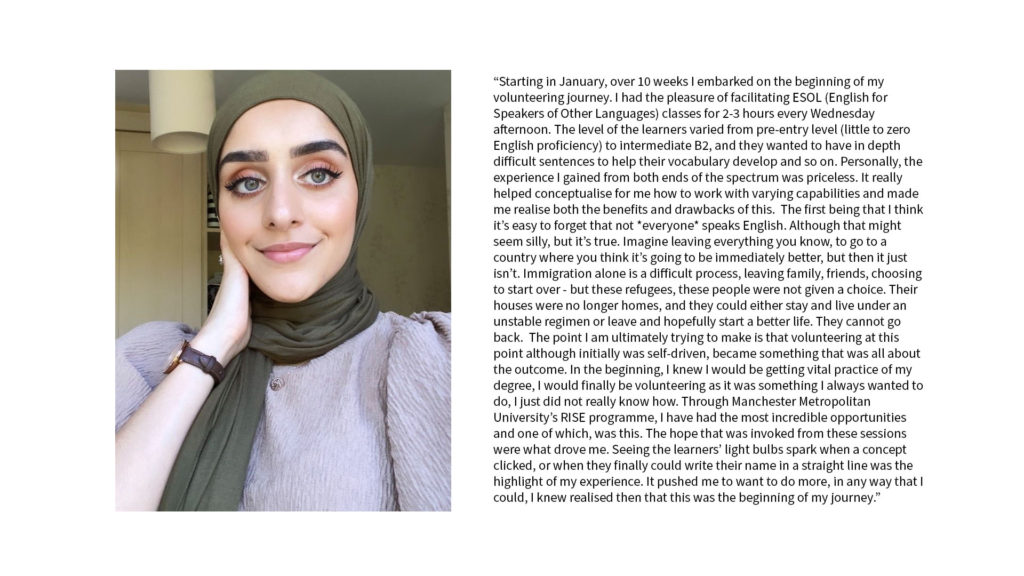 Some do's and don'ts for when volunteering:
Do
talk clearly and use gestures
use translation apps to help navigate language barriers 
do question your motivations for wanting to volunteer. Before you begin working with people seeking sanctuary, as with any group who is minoritised in a country, you need to ask yourself 'why do I want to work with these people?'. https://metro.co.uk/2019/03/06/what-is-a-white-saviour-complex-8793979/
remember that you're working with people with skills and experiences
keep boundaries and look after yourself
familiarise yourself with policies and processes around safeguarding and risk assessments
be aware of cultural difference and unconscious bias
enjoy the experience and be open to learning new skills
share your concerns or worries, other volunteers are likely to have been in the same situation and can support and reassure you
Don't
overstep your privilege and position of power, ensure you are maintaining appropriate, ethical and professional boundaries. 
ask leading questions about their situation, home country, journey, mental health, family – you are not trained to support people in this way, and can have damaging consequences
post identifiable information about a person seeking sanctuary online, particularly without consent. Some people may be uncomfortable with having their information and/or picture online. Others may be concerned with authorities or groups having access to their location/this information.
People seeking sanctuary are often isolated and their support structures are insufficient. When you ask questions that relate to previous trauma and difficult experiences, you are risking re-traumatising or triggering the reappearance of difficult emotions. This means that you risk harming the person who does not have an adequate support structure to ensure their safety and wellbeing.
impose your religious, social or cultural values and beliefs
provide any support or advice that you are not trained to do
make decisions for others – try to support people to do this for themselves
try to 'fix' people's circumstances
Safeguarding
It's important to consider how to work and engage in a way that is safe and appropriate for all involved. The organisation you volunteer with will have a robust safeguarding policy and it will be your responsibility to familiarise yourself with any key procedures. When you're working with an organisation, you will need to adhere to their safeguarding policies and work in the way they ask you to. It will be important that you know what to do if someone discloses something to you, and how to support them.
How best to keep everyone safe
To keep everyone safe, it would be advisable to avoid sharing personal information especially phone numbers and social media accounts, at least initially. This avoids being put in a situation where you might be asked to do something that you don't want to do, be asked to borrow money, or have someone become overly reliant on you. Having clear expectations around the limitations of your role and training, that everyone is aware of, is another key way of making sure people aren't put in awkward or uncomfortable situations
Vicarious Stress
It's likely that in your time as a volunteer, you will hear potentially disturbing and upsetting stories.
Due to this, it's important to have your own personal boundaries, as well as being aware of what the organisation you are volunteering for expects you to do around this. Be clear about how much of someone's story you are able to hear, be clear about the time you can offer and be clear about what support you can offer too.
Stop and Reflect
:
Consider your motivation and think about why you want to volunteer with refugees and asylum seekers? What's your drive and why?
Is there anything you think you might struggle with? Why? What support might you need to feel comfortable and confident?