Resources
Learning programming concepts series in Minecraft
Minecraft benefit in coding for students is that Minecraft offers a new innovative way to deliver lecture concepts for students by listening to pre-recorded short video series created by staff. This comes with the huge benefit of providing student the opportunity to re-evaluate their learning materials and boost their understanding at their own learning phase. In this bite-sized video series, Dr Pin introduces programming fundamental concepts in an easy to digest way that anyone without programming background is able to follow along.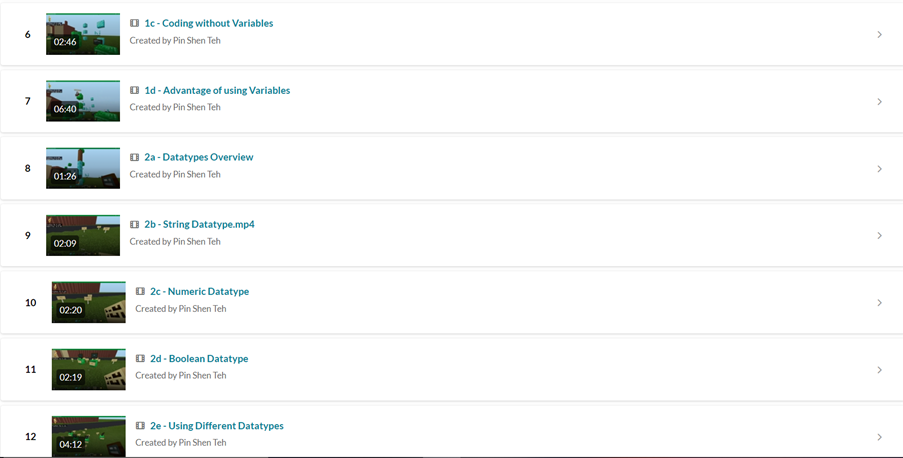 Coding activities using Minecraft
Minecraft Education Edition is used to deliver coding units understanding because of it's rapid themed coding features and response to real-time coding execution, allowing students to learn fundamental coding concepts easily. Plus, Minecraft allows the freedom to students to code and design something that they like, making the activities to be more engaging and fascinating to the students.

Learning and assessment with Minecraft (Lego serious play – non coding)
Minecraft Educational Edition is used in analysing employer psychology for non-coding units as part of their learning and assessment where students are placed into teams and are asked to build a structure that will evoke the emotion of a happy employer, by using Minecraft blocks. This method in much more effective compared to normal paper-based learning as they interact with a real-time environment and their emotional intelligence is challenged based on scenarios set by the tutors and helps students to reflect on how to represent emotions through blocks structures.