Now you have access to the IAB e-learning platform, achieving IAB Informed Certification with Manchester Met recognition is really straightforward.
Once you have registered, you need to complete specific courses to achieve IAB Informed Certification. You must complete all of the below courses to 100% to attain this certificate:
Digital Advertising Industry overview
Digital marketing essentials
Introduction to Digital Measurement
Programmatic 101 course
IAB UK Gold Standard Training Course
Once you have a completed a course, both revising the content and completing the assessment quiz (if there is one), it will show as 100% complete. You will see an example of how this looks in the screenshots below.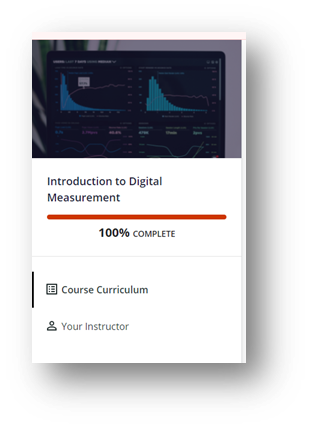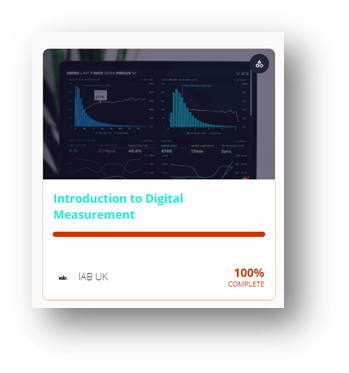 If you can't progress to the next lecture or activity or don't see 100% complete on a course, check there isn't a quiz beneath the video for you to take first and then make sure you click the "complete and continue" button to confirm you have finished the previous activity.

You can save your progress, so there is no need to complete the certificate in one sitting. Once you have achieved 100% completion on all of the above courses, you are able to state that you have achieved the IAB Informed Certificate on your CV, LinkedIn profile and in interviews.
Digital Certificates are sent out three times a year on the below dates to the student email address you signed up and completed the courses with:
31st August
31st January
30th April
If you haven't received your certificate by the next certificate date, please check your junk mail and make sure you have entered your email address correctly. The IAB Informed Certificate will only be sent to a Manchester Met University address (112233444@stu.mmu.ac.uk or @mmu.ac.uk) as this is proof that you are a member of the organisation. Please do not ask for it to be sent to a different email address, as this cannot be accommodated.
If you believe you have followed the above instructions and have waited until the next certificate send out date, but still haven't received your certificate, please contact membership@iabuk.com