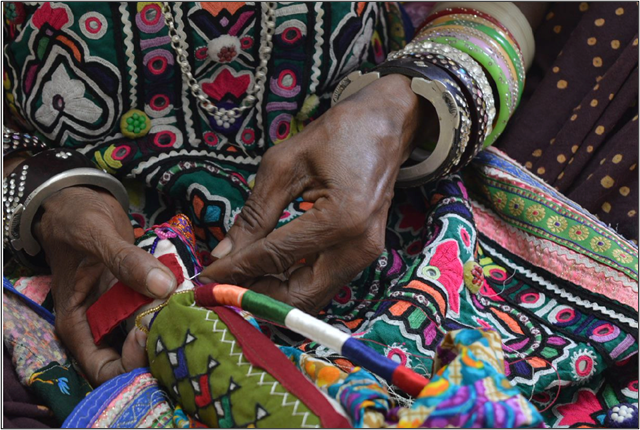 //REWORK THIS
Activity: Takes place with a fixed time and schedule
You will earn 160 bronze points for completing this activity.
Log In To Book
The Global Artisan Project: A collaborative project with Artisans in India
A live collaborative project working with Indian fashion styling students supporting fashion-based clients in India who are looking for your ideas on how to strengthen their brands' reach. Help to enhance brand voice and reach for a community of fashion producers whose voices aren't yet heard.


The Global Artisan Project (GAP) is a live, global, co-creation project developed by staff from two universities, Pearl Academy in Delhi, India and Manchester Fashion Institute (MFI) in Manchester UK, in collaboration with Indian fashion textile artisan craft producers. 
Artisanal and craft production can often be pushed outside everyday practice, making the journey to market a challenge for artisans. In the Autumn of 2020, the Crafting Futures India Scheme funded project, Raising Awareness of Value (RAV) launched its first stage of close work with textiles artisans in India. The group of artisans are highly skilled weavers, dyers and embroiders who produce textiles-based garments such as stoles, scarves, and saris. During COVID-19 lockdown these artisans were able to develop their textiles but had few opportunities to sell them. A key aim of this stage was to take traditional garments and develop a small range of clothing by creating new silhouettes to highlight the skilled craftwork of these artisans.
Following this, students from Pearl Academy and MFI, in May 2021, joined staff from both institutions in the Craftisan Project, the first in a series of global co-creation project between the two institutions which saw students develop branded assets for artisans according to their direction and their promotional needs.
This year, the Global Artisan Project, through online masterclasses, studio practice sessions and collaboration opportunities, will focus on co-producing comprehensive brand guidelines for the participating artisans, in the form of a Brand Book.
Essentials
This project needs students with a passion for sustainability, sustainable fashion, and community style projects.
Commitment: Nine (9) hours a week on Tues, Wed, Fri (10-1)
Questions at the heart of this project include:

What drives, motivates and inspires the artisans?
How can we work together with the artisans to tell their unique stories about their brands and the products?
What you will do
You will be working in groups with fashion styling students at Pearl Academy to support Indian craft-based fashion and textile artisans develop their brands via a fashion-based promotional campaign for wider international reach. You will develop skills in brand design and development through:
Developing brand assets such as logos and packaging
Developing brand guidelines including
Tone of voice
Colour guides
Typography and layout
You will develop these skills and knowledge through Collaborative production meetings led by mentors and master classes and demonstrations by industry specialists which will include:
Contemporary Craft in India & UK
Brand DNA, Brand Identity and Brand Ecosystems
Layout, Logo and Packaging as Communication
Art Direction
Styling for Brand Development
Writing for Promotion
InDesign studio sessions
Perks at work
Become an essential part of the Global Artisan Project community working a live project that will have expansive reach and help to build your own professional portfolio.
Meet and develop contacts in India building your reputation and being exposed to employment opportunities.
Work remotely and within the co-working space Teams where you will have access to a creative community here at MMU and Pearl Academy in India.
Have exposure to sustainable initiatives and existing sustainable brands developed by fashion-textiles artisan
Recent Media
Business of Fashion, 2020: Luxury Brands Have a 'Respect Deficit' with Indian Artisans
In A Nutshell...
Empower... Indian fashion-textile artisans to strengthen the voice of their brands to extend the reach of their products
Implement... brand building ideas through creating a set of brand guidelines that define the voice of the artisan and the brand.
Develop... your global citizenship and cultural awareness by collaborating with Indian fashion and styling students and participating in Masterclasses with Indian fashion-textile artisans.
Share... your branding knowledge and creative design skills with Indian fashion artisan start-ups to be catalysts for broader and transformative change.
Engage... with fashion and styling students at Pearl Academy and rural communities in India to influence global fashion markets
Connect... knowledge and experience to inspire, support the development of a more equitable global fashion system at a community level.
Earn up to 160 Rise points ... which can be recognised within your degree.
Schedule
20/05/22 to 15/06/22




Project Work

Project work will take place for 9 hours per week on Tuesday, Wednesday and Friday 10-1.