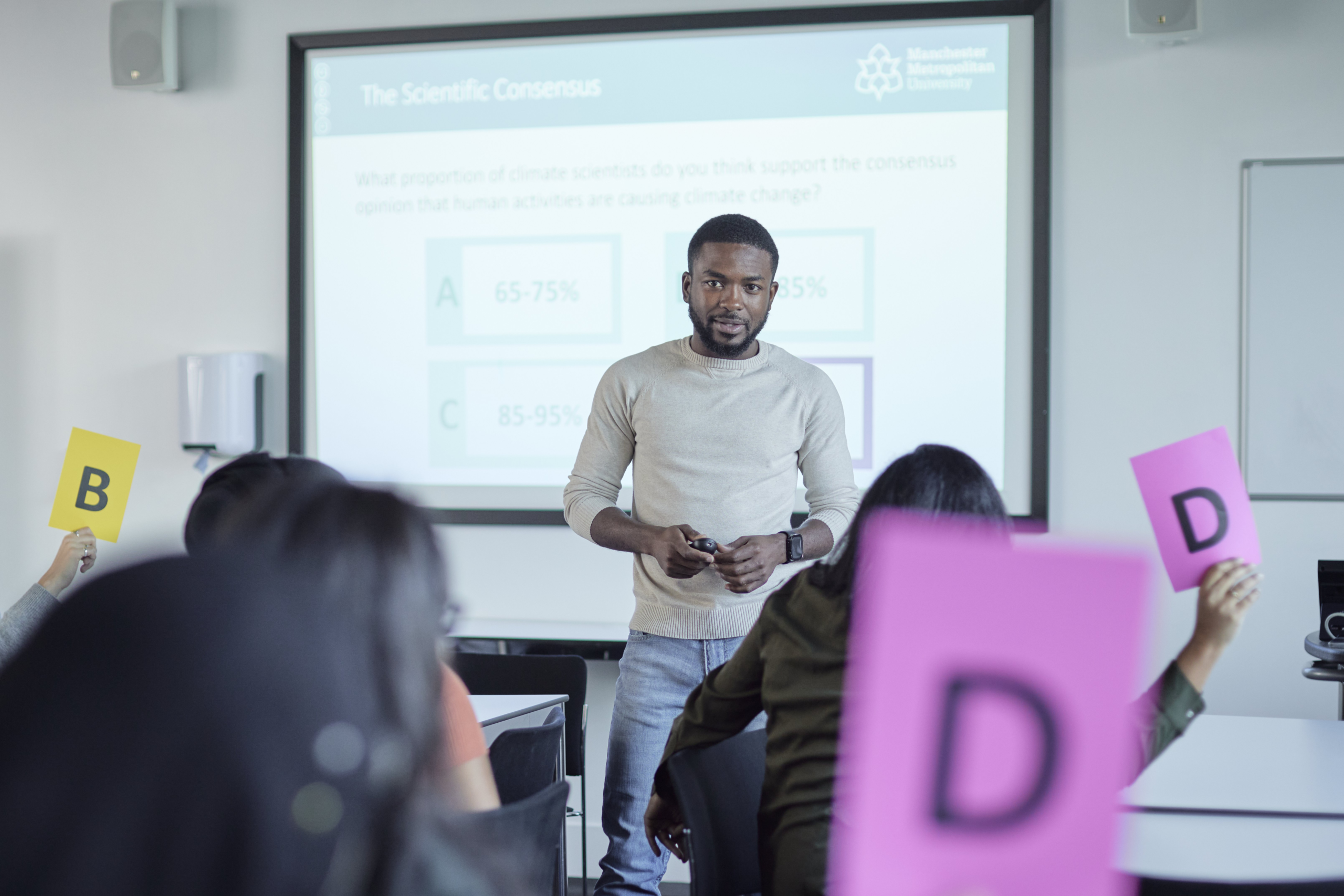 //REWORK THIS
Activity: Takes place with a fixed time and schedule
You will earn 40 silver points for completing this activity.
Log In To Book
Teach Carbon Literacy
How does climate change work? What are the solutions? How can you deliver Carbon Literacy training to your own students?
Please note that this course is open to nominated departmental Carbon Literacy Champions. If you have not been asked by your Head of Department to register for this course but would be interested in taking part, please email
carbonliteracy@mmu.ac.uk
.
Course outline:
This two-part course will give you a comprehensive overview of climate change: the basic science behind it, its drivers and impacts, as well as an understanding of the actions required by individuals, communities, and organisations to avoid the worst impacts and set us on a path to a sustainable future. The activities are highly discussion-based and there will be ample opportunity to ask questions and share ideas. Activities will be interspersed with advice and discussion on how to embed Carbon Literacy into your programme/department, and how best to deliver the training to your students. The course will also cover the nuts and bolts of admin, logistics, and how your students can gain a Carbon Literacy certificate. After the training you will have the opportunity to apply for a Carbon Literacy certificate yourself, by demonstrating your knowledge of the necessary steps to achieve a zero-carbon world, and by making two action pledges – one individual and one group – that will reduce your own and others' carbon footprints. If you have any additional learning requirements, please contact us as soon as you are able, at 
carbonliteracy@mmu.ac.uk
 so we can determine how to best support you in undertaking this training.
Associated Badges:
In A Nutshell...
Advance... Manchester Met's Sustainability Strategy by helping to roll out Carbon Literacy training across the University
Join... a University-wide network of Carbon Literacy Champions
Engage... your students on the most urgent issue of our time
Amplify... an award-winning climate education programme
Empower... yourself and others to tackle the climate crisis
Earn up to 40 Rise points ... which can be recognised within your degree.
Schedule
12:30 to 16:30 on 12/07/23 - BS 5.05




Teach Carbon Literacy Part 1

Understanding the scale of the problem

12:30 to 16:30 on 13/07/23 - BS 5.05




Teach Carbon Literacy Part 2

Empower yourself to take action