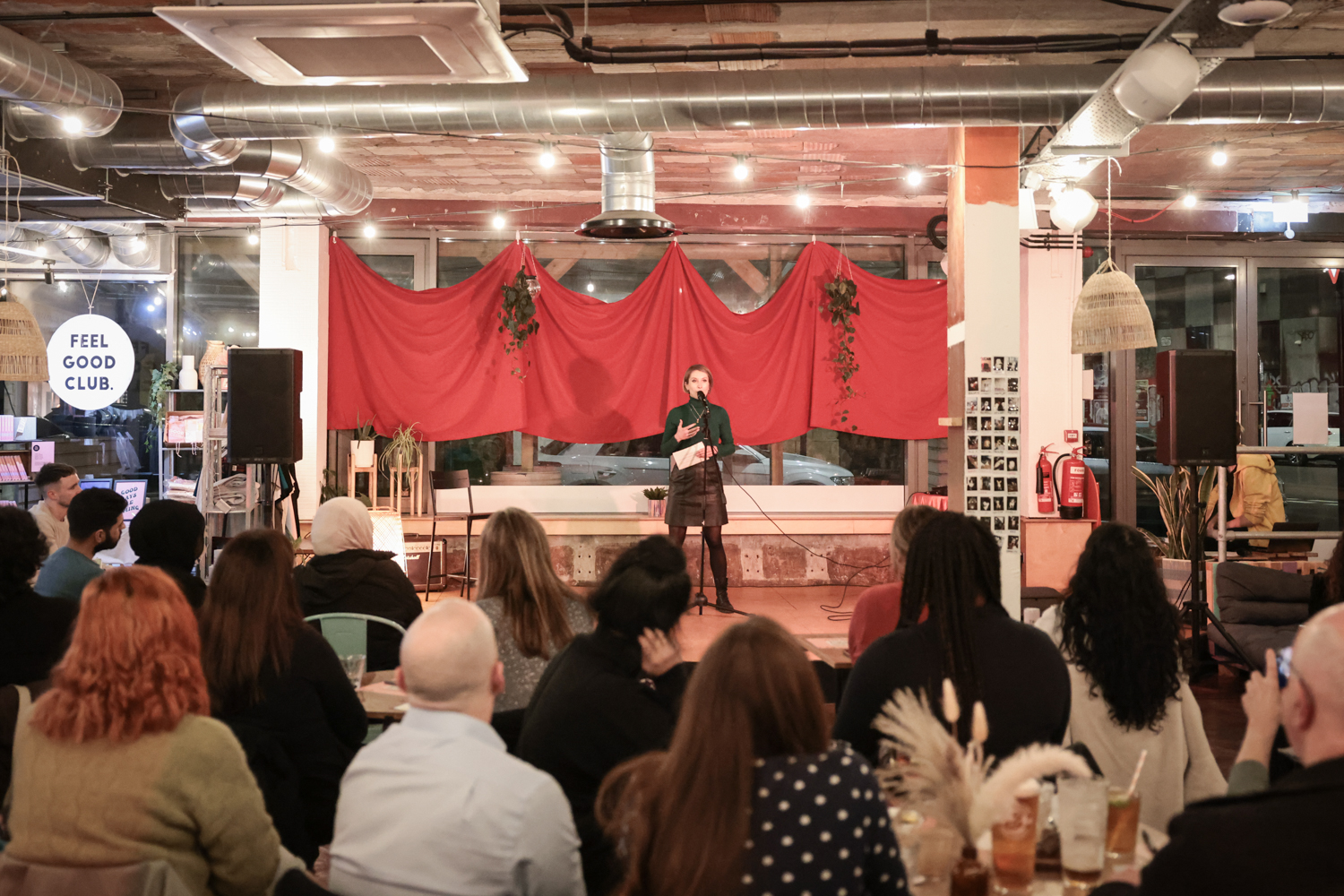 //REWORK THIS
Activity: Takes place with a fixed time and schedule
You will earn 20 silver points for completing this activity.
Log In To Book
Storylab with Heard Storytelling
Unlock the superpower of storytelling! Learn to tell your story out loud and confidently in a Masterclass with Heard Storytelling. Attending this Storylab Session will also give you the chance to perform at a live storytelling event later on June.
Would you like to unlock a superpower?
Heard Storytelling masterclasses create a safe and welcoming place to learn how to tell true stories about yourself, out loud. Over the three hour workshop you'll explore what makes a great spoken story, so you can tell yours with confidence. We'll cover the science behind story power, how to mine for stories to discover the greatest hits of you and tips and tricks to make a lasting impact. The session will also include an opportunity to practice your crafted story.
Who is this for?
Absolutely everyone and every story is welcome. All you need is a true story to tell.
Do I even have a story?
Your stories are your lived experiences. You don't need to have made headlines, you just need to have lived.
What are the benefits?
Spoken stories help us to develop understanding of others and ourselves and form deeper connections. These skills can be useful when presenting, pitching, delivering a speech, making conversation or with any form of communication with an audience!
What do I need to bring?
Pen and paper, a listening ear and open heart.
Tell your story
By attending one of our sessions, you'll also have the opportunity to perform and tell your story at a live storytelling event on 22nd June!
Hello, we're Heard Storytelling
We're a spoken stories company that harnesses the power of lived experience (told in your own words) to create positive change. We exist to bring people together, whether that's at one of our storytelling nights, through our teambuilding sessions or our bespoke projects. You can find an example of a recent exhibition HERE. When you tell a story, you unlock a superpower. Don't believe us? Science backs it up. Hearing a story told aloud, complete with details that tingle your senses and revive your own memories, causes neural receptors to light up. It's the part of the brain that deals with empathy: the ability to share and understand someone else's feelings. And what could be more super (and powerful) than that?
We're looking forward to meeting you soon, sharing our love of true, spoken stories and discovering what tales you have!
Associated Badges:
In A Nutshell...
Discover... the power of storytelling and your own stories
Build... your confidence in a safe and welcoming learning place
Speak up... and share your stories with the world
Improve... your overall public speaking skills
Get the chance... to perform at a live storytelling event on June 22nd
Earn up to 20 Rise points ... which can be recognised within your degree.
Ticket Options
Schedule
14:30 to 17:30 on 02/06/23 - Manchester Met Business School: Room 3.04




Storylab Session