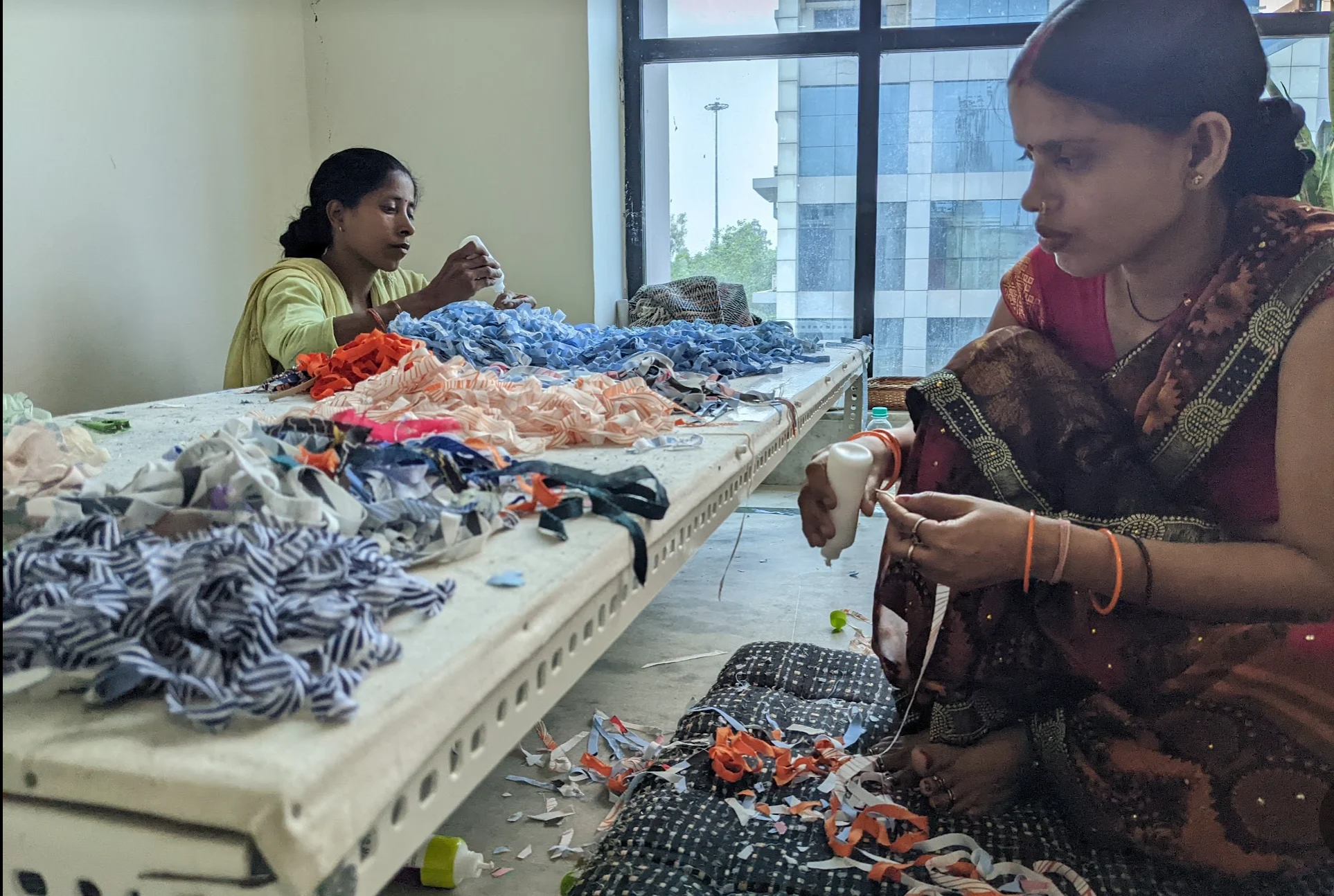 //REWORK THIS
Activity: Takes place with a fixed time and schedule
You will earn 300 bronze points for completing this activity.
Log In To Book
Slow Fashion, Slow Media - create international, in-depth multimedia stories on sustainable fashion
Fashion is one of the world's most important creative industries, but it is also one of the most wasteful and polluting. Change is needed and you can be part of it. Learn how the fashion industry is making shifts to slower production and consumption, and work as part of an international team to produce a multimedia story to address this change.
Fashion is one of the world's most important creative industries and touches the lives of most people in the world, helping us to construct and communicate our identity as well as providing a livelihood for millions of people. However, fashion requires large amounts of water, energy and toxic chemicals, generating increasing carbon emissions, pollution and textile waste, all the more so due to the growth of fast fashion which relies on cheap manufacturing, frequent consumption and short-lived garment use before disposal. Fashion is also associated with the exploitation of people who are involved in its manufacture with sweatshop working conditions found in both developed and developing countries, and many people suffering from the impacts of its polluting operations around the world. We desperately need an industry-wide shift to a slower and smaller fashion system to support efforts to meet net-zero carbon targets as a way of mitigating the impacts of man-made global warming. The theme for this project is the United Nations Sustainable Development Goal 12 – Responsible Production and Consumption, which is key to sustain the livelihoods of current and future generations. Unsustainable patterns of consumption and production are root causes of climate change, biodiversity loss and pollution. We must work together to improve resource efficiency, reduce waste and pollution, and shape a new circular economy. In this project, you will work in a team to create an in-depth sustainable fashion story, told by richer, deeper, multimedia outputs that seek to scratch below the surface. Audiences are seeking more meaningful content – the anthesis of 'the scroll' – that aligns to the hunger for knowledge-building storytelling. UN SDG 12
https://www.un.org/sustainabledevelopment/sustainable-consumption-production/ Perry, P. (2017)
https://theconversation.com/read-this-before-you-go-sales-shopping-the-environmental-costs-of-fast-fashion-88373 Perry, P. (2020)
https://www.bigissuenorth.com/comment/2020/08/why-dont-we-just-make-fashion-greener/#close
The True Cost (2015)
Fashion Reimagined (2023)
https://www.fashionreimaginedfilm.com/
This RISE project will run for 5 weeks from 2nd May to 2nd June. There will be two online masterclasses and/or group tutorials each week from mentors across both institutions, covering the problems that need to be addressed as well as alternative business models and sustainable innovations, and exploring different companies and organisations that are working in some way to slow down fashion, as well as the technical know-how of multimedia journalism. The Masterclasses will run twice a week and will be recorded if you can't attend. In week 3 (15-19 May) there will be a visit to a sustainable fashion producer where you will interview industry experts and take images, audio and video to support your story.
You will be expected to develop your story ideas through online collaboration with your project team and independent study. You will earn a full 300 Rise Points on completion of this project.
Students will form transnational virtual project teams across Manchester, Delhi, Mumbai and Bangalore and explore international and local real-world practice. You will be introduced to Manchester / Delhi / Mumbai / Bangalore-based NGOs, activists, craft clusters or brands who are interested in exploring sustainable topics for their audiences. You will align around a single story with teams working to produce separate outputs that, put together, tell the whole story on a topic related to UN SDG 12 Responsible Production and Consumption as a piece of multimedia long-form to be published on Shorthand.  
The multimedia long-form articles may consist of: 
Photojournalism 

Case study interviews 

Standalone audio content 

Standalone video content 

Original graphics and illustrations 

Infographics 
By collaborating with students from Pearl Academy in India you will not only create digital and journalistic outputs but will also experience international teamwork, work alongside industry, demonstrate employability and produce work suited to graduate portfolios.  
We welcome participants from across the Arts and Humanities Faculty.
The deadline for registering your interest is close of play on Friday 28 April. Last year's outputs to inspire you!
https://mmj-man-met-uni.shorthandstories.com/how-fashion-is-reducing-garment-waste/index.html
https://mmj-man-met-uni.shorthandstories.com/the-7-000-km-journey-of-sustainable-fashion-innovation/index.html
https://thenorthernquota.org/2022/06/30/extending-life-our-garments-reduce-fashion-waste-manchester-delhi/
https://thenorthernquota.org/2022/06/29/7000-km-journey-sustainable-fashion-innovation-manchester-delhi/
In A Nutshell...
Lead the Challenge... working as an international team to develop a multimedia story for good
Be a Catalyst for Change... work collaboratively to produce a long-form, multimedia story to evidence the fashion and textile industry's impact on planet and people
Engage internationally...work online in teams with students from Pearl Academy in India
Collaborate across disciplines... creative students from any subject motivated to make positive change can take part
Meet fashion experts leading the change...interview industry experts to better understand the issue
Showcase Your Work... outputs will be published on Shorthand
Earn up to 300 Rise points ... which can be recognised within your degree.
Schedule
09:00 to 10:00 on 02/05/23 - Takes place online




Introduction to the project

Meet the team from Pearl Academy in India and learn more about the work you will be doing in teams over the next few weeks

02/05/23 to 19/05/23




Weeks 1-3: Exploring sustainable fashion production and consumption

Explore sustainable fashion in a series of recorded international masterclasses. Work in a group to develop journalistic ideas related to your learning. Visit a slow fashion brand in Manchester to interview industry experts.

22/05/23 to 02/06/23




Weeks 4-5: Producing a collaborative long-form multimedia story

Work both independently and in a group to create digital journalistic outputs related to the topic. Attend weekly online mentoring sessions. There will be an on campus editing session in the final week.