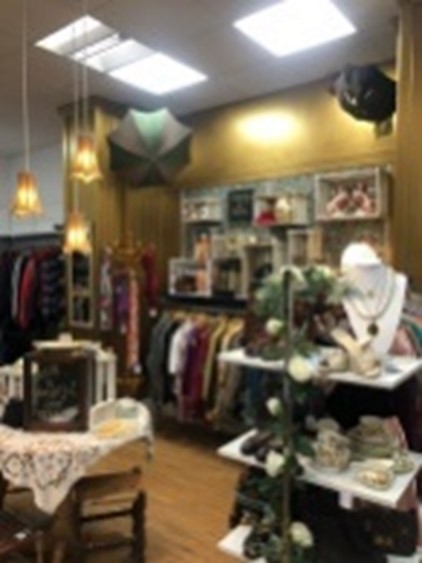 //REWORK THIS
Activity: Takes place with a fixed time and schedule
You will earn 300 bronze points for completing this activity.
Log In To Book
Seamlessly Sustainable Fashion: Show Us What You're Made Of
Use your flair for fashion to highlight volunteering opportunities in the local community - "Show us what your made of" using ethical messages which combine to create a creative fashion community campaign.
Academic Contact: Lisa Trencher
Sue Ryder is focussed on raising awareness about our opportunities available in our Altrincham and Didsbury vintage and retro shops.  We want you to creatively convey messages about the benefits of Volunteering with us through a visual merchandising & a social media fashion campaign.   You will have a photo shoot, establish a social media presence, design a visually appealing window display, set up a local event, inviting the public to join our team.  
We want you to infuse your passion for fashion with our care for people and the environment, by creating engaging and sustainable fashion messages to raise awareness about the benefits of volunteering in our Altrincham and Didsbury Sue Ryder Vintage & Retro Shops.  Whether it's the great shopping experience or the unique fashion trends with amazing looks, to spending less and making a positive difference, your knack for sustainability & fashion will make a difference.  
There are 4 roles available to students to produce an awareness raising campaign on the benefits of volunteering with Sue Ryder. This final event will take place in June at our Altrincham & Didsbury Sue Ryder Shops. There will be 1 required online meeting with our marketing team and briefing sessions beforehand. Our marketing guidelines training is essential; you must be able to attend to apply to be a co-facilitator.
If you are interested in this opportunity, we would love to hear from you. Send us an expression of interest; tell us about yourself, your experience, and why you would like to take part in this opportunity.
We want our customers, donators, and the public to understand how their support can reduce fast fashion's impact on the environment, reduce textile waste, and encourage our customers to make kinder choices when it comes to purchasing and repurposing clothing.  Your skillset can showcase how our donated garments can be worn and then transformed through upcycling and recycling after that- Show us what you're made of!
More about Sue Ryder
Sue Ryder has over 400 shops across the UK which are packed with an eclectic mix of treasures - from clothes to furniture, musical instruments to wedding dresses.  Our Retail shops support our healthcare centres by accepting regular donations of goods to help raise vital funds for the charity's palliative, bereavement, and neurological services.  Sue Ryder supports people through the most difficult times of their lives. Whether that's a terminal illness, bereavement, or a neurological condition – we're there when it matters.
Find out more about Sue Ryder by visiting www.sueryder.org or following us on Twitter @Sue_Ryder  
In A Nutshell...
Learn...new skills in an evolving profession within an exciting industry
Gain experience...in a career field that you may not have thought of before
Collaborate... with more creative students, professionals, and multidisciplinary teams
Engage online & Design...in Zoom sessions with professionals & in store to showcase your designs.
Earn up to 300 Rise points ... which can be recognised within your degree.
Schedule
05/05/22 to 30/06/22




Internship

2 days per week in May and June