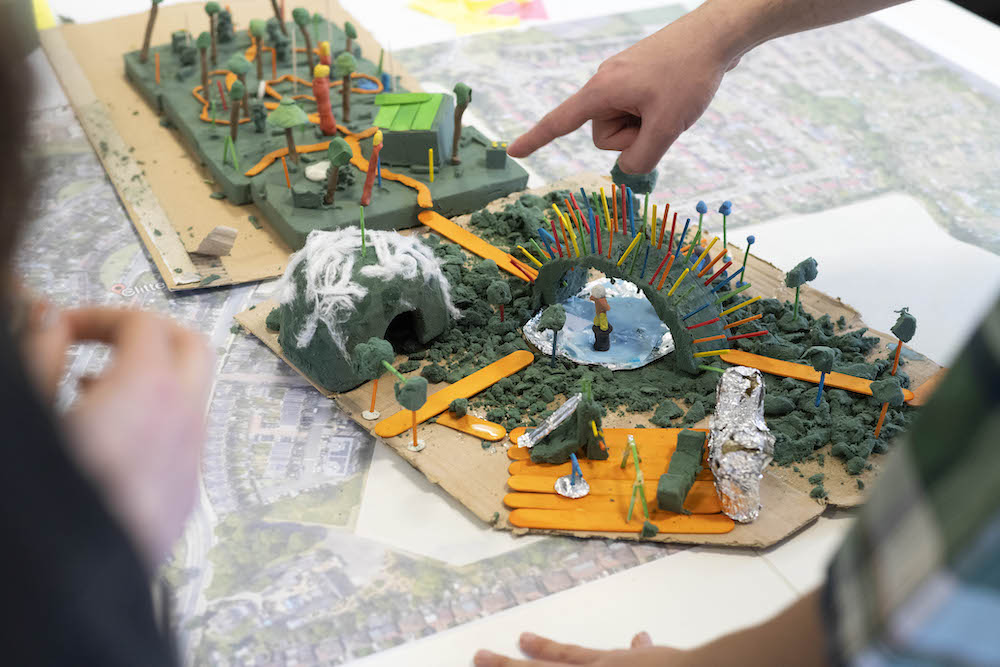 //REWORK THIS
Activity: Takes place with a fixed time and schedule
23rd November
to 24th June
You will earn 300 bronze points for completing this activity.
Log In To Book
Saturday Club Co-facilitator & Storyteller Role
Interested in learning workshop facilitation skills, running sessions and getting creative through subject specialist Saturday clubs aimed at 13-16 yr olds?
What does it mean to be a Saturday Club co-facilitator?
Becoming a Saturday Club Co-Facilitator means you will learn how to support and deliver workshops aimed at young people. You will undertake engaging training where we will touch upon delivery methods, important things to know when leading workshops, we will look at planning a session and small activities together, and consider ways you can support the club to run creatively and effectively, supporting young people to find their voice.
Co-facilitators will also be Storytellers. You will tell the story of your Saturday Club, not only becoming an essential part of each workshop, you will also shout about it, build a professional profile for yourself and your peers, and tell the story of your club on social media, across LinkedIn and the Rise website.
You will be supported to devise and deliver your own workshop (if you wish to, no pressure here) and through mentoring & training will feel confident about your understanding of the project and how your role sits within it. You will also be supported to develop your professional profile and share your practice through blogging workshops and mentoring from tutors.
You will support the Club Tutor to run sessions and engage a group of 13-16 year olds on Saturdays, on campus, in a discipline area of your choice:
Writing&Talking
Science&Engineering
Art&Design
Film&Media
Fashion&Business
Society&Change
This is an interdisciplinary project, you do not have to be studying these subjects to support the club.
What is Saturday Club?
The National Saturday Club is a network of subject specialist clubs for young people, they run all over the country and offer 13-16 year olds free workshops in a subject of their choice.
Manchester Metropolitan has a long history of running Saturday Clubs, starting to deliver the Art & Design club 9 years ago. This year we have 6 different clubs!
We need students like you to come and support the delivery, bring your wonderful personalities and varied interests, and show young people what it is like to live in Manchester and attend a vibrant university like Manchester Met. We want you to learn, develop your skills and test out ideas within club, and most of all we want to hear your stories throughout.
How to Apply:
Whether you have experience working with children and young people, or are just interested in the subjects on offer, maybe you like the idea of learning how to facilitate workshops, or perhaps you want to develop your CV, whatever your interest, we want to hear from you.
Send us an expression of interest, tell us about yourself, any relevant experience (direct experience not needed, this is a learning opportunity), tell us the club you would like to support and why, and what course & year group you currently study in.
Dates for delivery will be between February & June 2023. The 2 dates for training are essential, you must be able to attend 2 training sessions to apply to be a co-facilitator. In person training will be repeated online in January (TBC).
Find out more about Saturday Clubs here: https://saturday-club.org/
In A Nutshell...
Training... in facilitation & workshop delivery skills
Learning...learn in a fun & creative environment we will encourage young people to play, learn and socialise
Collaborate... work in groups to support the design & delivery of workshops
Co-Facilitation... work with a club tutor to build an inclusive and fun environment
Show leadership... promote the project and lead the way in exploring how your engagement in club has made change at Manchester Met!
Mentoring... Receive mentoring support from your club's team, learn & grow in a safe space where trial and error is encouraged
Earn up to 300 Rise points ... which can be recognised within your degree.
Schedule
15:00 to 16:30 on 23/11/22 - On campus Grosvenor East Building, room GE4.06




Training sessions in-person-on-campus

Training session one

15:00 to 16:30 on 30/11/22 - On campus Grosvenor East Building, room GE4.06




Training Session in-person-on-campus

Training session two

08/01/23 to 30/01/23 - TBC




Meet your club Tutor and Mentoring session

In this session (date and time tbc by tutors) you will work with your club tutor to begin planning, mentoring for your role, and learn even more about the Club!

04/02/23 to 24/06/23




On campus, in-person delivery of workshops

In this phase you will support a club tutor to deliver a specialist club on a Saturday Morning. This delivery is flexible, and you are not expected to be at every session, however you will commit to delivery dates that suit you.