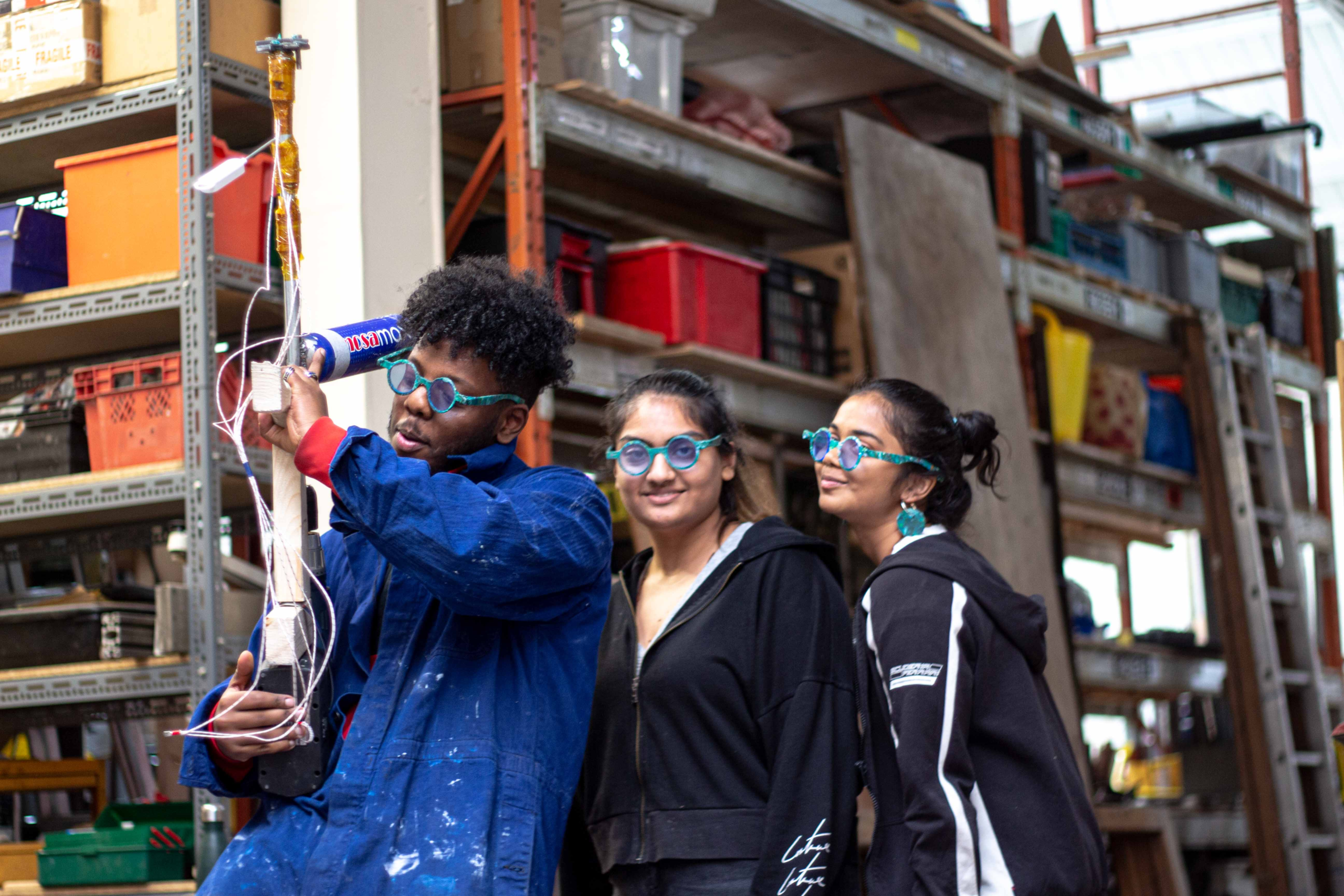 //REWORK THIS
Activity: Takes place with a fixed time and schedule
8th February
to 11th March
Log In To Book
Reimagining Plastic
Apply for the opportunity to work closely with 3 innovative & creative freelancers on a 6 week project, work collaboratively, and respond to a live brief repurposing plastic to be used in a handmade extruder!
Ever wanted to build a plastic recycling extruder, maybe you never knew you did!? Ever hoped to engage people in how they use & recycle plastic, maybe you want to develop your communication skills? Do you consider yourself a future educator, or would you like to learn how to facilitate workshops? Or maybe you have a designer somewhere inside you and have never had the chance to let it out? Then join us on this project looking at how Plastic can be utilised for good.
You will build on existing experience, learn new skills, and work with innovative freelance practitioners to make amazing stuff happen, play with plastic and consider how recycled plastic can be a positive material when thought of in different ways.
Throughout this project, you will attend a series of workshops hosted by these practitioners, aimed at developing knowledge and building new skills. You will be provided with studio space and guidance from the practitioner team as well as all resources you need to make your response to the brief a success. And you will be supported in the production of an exciting and outward facing Outreach Day, working with the general public to play with your ideas, extrude recycled plastic and design new objects!
A full timetable will is provided
please take a look at the schedule before applying
, and once you start the project you will be given more detail and content. Expect a combination of half and full day in-person sessions on Wednesday afternoons and Saturdays.
Project starts: Wednesday 8th Feb 1pm
Project ends with an Outreach event run by you on 11th March 2023
------
Reimagining Plastic is a collaboration between three Manchester Met University alumni now running their own successful enterprises. They want to work with YOU! They want a diverse group of students from all different courses and across the whole uni, so if any of this sounds exciting, apply today!
work to unite people around the issue of plastic pollution through providing hands-on opportunities for local community to get involved with plastic reusing.
provide bespoke digital design and manufacturing services within the heart of Manchester.
work as a freelance creative specialising in 3D printing and sustainability, driven by playful and creative thinking.
In A Nutshell...
Work collaboratively... with other students from different disciplines
Respond...to a live brief exploring sustainability, circular economies and design for good
Problem solve... through playful, creative approaches to re-using plastic waste
Specialise... by working in a role with specific tasks and outcomes
EXTRUDE STUFF... You will get to extrude recycled plastic and make stuff! Think colourful, fun, innovative and playful making
Deliver... Engage the public with an exciting festival of ideas from your project in an Outreach Day on 11th March
Schedule
13:00 to 18:00 on 08/02/23 - On Campus GE 4.07




Intro Day, welcome and meet the team

11:00 to 17:00 on 11/02/23 - The Plastic Shed, Merseyway Stockport




Plastic Shed Day

13:00 to 18:00 on 15/02/23 - Duggie's workshop: 3 Cakebread Street Manchester M126HF




Extruder Making session #1

These sessions will take place at Duggie's workshop and studio. You will be making the extruder to use later in your project. Expect design, build, making and fun!

11:00 to 17:00 on 18/02/23 - Duggie's workshop: 3 Cakebread Street Manchester M126HF




Extruder Making Session #2

13:00 to 18:00 on 22/02/23 - Multiple




Print City and 3D Printing Session

An opportunity to get designing and 3D printing, accessing Print City at Man Met and Jamie's studio at Islington Mill, Salford.

13:00 to 18:00 on 01/03/23 - On Campus GE 4.07




Self Directed Group work, playing and planning

11:00 to 16:00 on 04/03/23 - Campus TBC




Full Team workshop day

13:00 to 18:00 on 08/03/23 - On Campus GE 4.07




Workshop session and Planning event

14:00 to 16:00 on 11/03/23 - Brooks Building Man Met Campus




Outreach Festival of Ideas

In this session you will deliver an exciting festival style activity day where young people and their families will attend, playing with your designs and finding out about your work. Exciting!