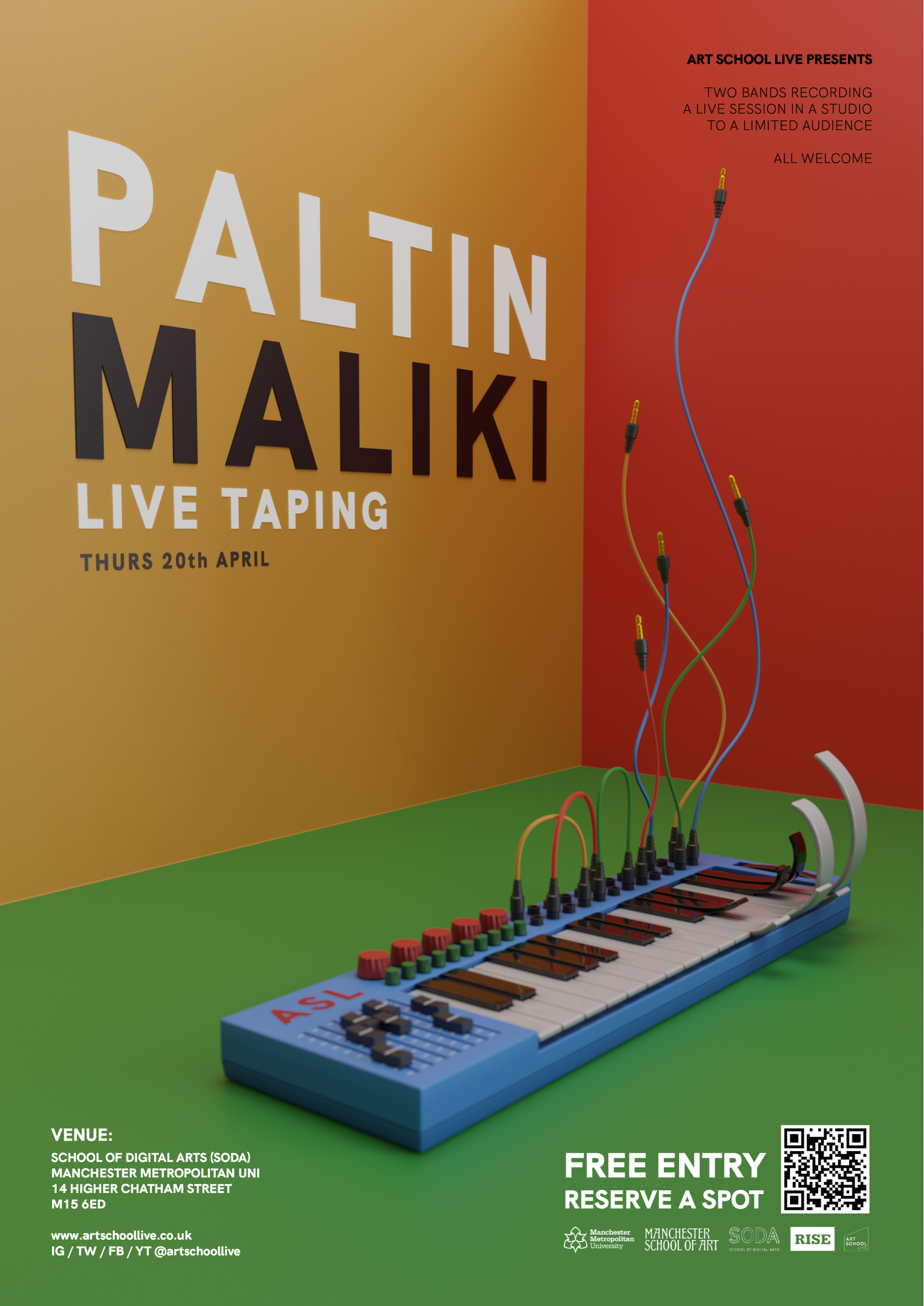 Takes place with a fixed time and schedule
Log In To Book
Produce a Hybrid Music Event (April)
Art School Live is focussed on bringing live music onto the MMU campus. We book bands, make a venue from scratch, set up a multicam live-streaming rig, create a brand identity, invite an audience and produce a professional hybrid event.
There are a wide array of roles on offer to students to produce the show. These range from camera operators, vision mixers and photographers to graphic designers, social media officers, events managers and journalists/reviewers.
This event will be taking place on Thursday the 20th of April in a studio in the SODA (School of Digital Arts) building. We will be inviting an audience of around 40 people to watch the taping. Students will be needed to operate the equipment for the live stream, to manage the event (both the bands and the audience) and to help to market/document the show.
We run these events regularly, so keep your eye out for future projects.
What you need to bring to the table
Commitment: we're asking you to commit to the show date, and the dates of the meetings and training in advance of the show.
You will also have to undertake some work in your own time away from these meetings (e.g. creating graphics/animations, writing reviews, scheduling social media posts etc.) – each team usually meets up on an informal basis in between the official meetings.
You will be required to meet deadlines and work to schedules.
This is a student-led project – bring your creativity to the table.
Students will be split into three teams to run all the different aspects of the project:
Technical Broadcast Team (TBT) The technical team will operate the cameras, vision mixing, sound, lighting and run the graphics and pre-recorded packages into the live show.
Events Management Team (EMT) The events management team will look after the smooth running of the show – liaising with guests, carrying out risk assessments, logistics and ensuring good communication.
Marketing & Branding Team (MBT) The marketing and branding team will look after the creation of the show's graphics along with creating and distributing social media and other promotional content.
In A Nutshell...
Gain hands-on experience... working on a professional live music event
Choose a team ... Events, Tech & Marketing
Use new equipment ... operate a full Blackmagic streaming setup
Receive mentorship ... from professionals
Improve your CV ... add to your showreel with professional content
Earn up to 80 Rise points ... which can be recognised within your degree.
Earn up to 80 Rise points ... which can be recognised within your degree.
Schedule
11:00 to 12:00 on 06/04/23 - SODA 4.06 (Studio 13)




Production Meeting 1

Meeting the team, assigning roles, looking at the venue.

11:00 to 12:00 on 13/04/23 - SODA 4th Floor




Production Meeting 2

Final meeting. Make sure that everything is planned: setup, final bits of promo, plan signage etc.

12:00 to 16:00 on 19/04/23 - SODA 4.06 (Studio 13)




EVENT - SETUP DAY

Setup of cameras, vision mixer, sound etc. plus signage around the venue.

13:00 to 21:30 on 20/04/23 - SODA 4.06 (Studio 13)




Event - Show Day

The big day. We will be live-streaming the full show this day. This will consist of camera tests, stream tests and sound tests during the band soundchecks, then a full stream of the show in the evening. Please make sure you are free this day.

09:00 to 12:00 on 21/04/23 - SODA 4.06 (Studio 13)




Event - Packdown

One of the most important parts of any show is packing all the equipment down the following day.