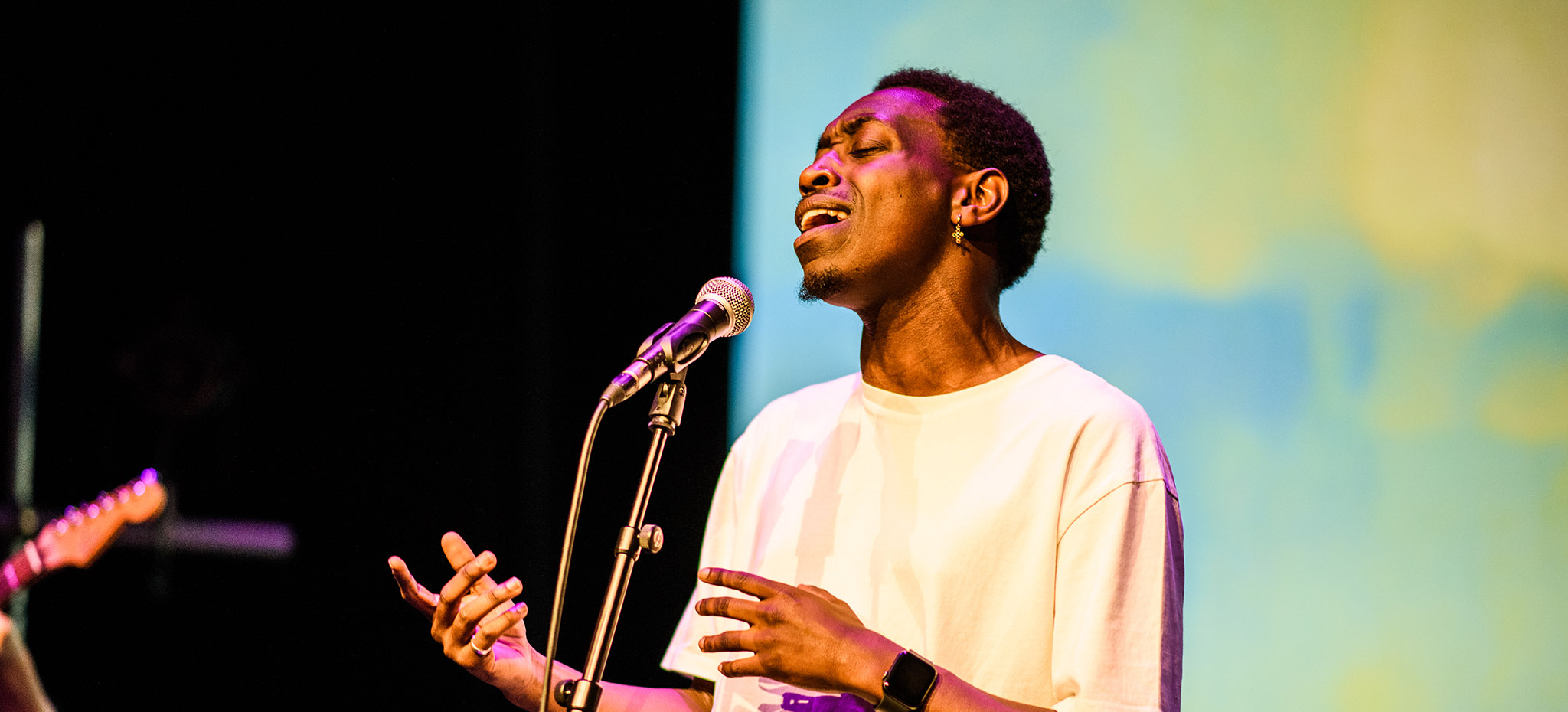 Takes place with a fixed time and schedule
Log In To Book
Plan & Produce a Hybrid Music Festival (Art School Live)
Whatever your level of experience, you can be involved in running a live streamed music festival! After three hugely successful festivals in 2021, 2022 & 2023, Art School Live Festival is back for its fourth outing, this time as part of the School of Art Degree Show preview event.
After three hugely successful festivals in 2021, 2022 & 2023, Art School Live Festival is back for its fourth outing, this time as part of the School of Art Degree Show preview event. By signing up for this Rise activity, you are applying to help run the festival.
Please visit our website to see examples of previous shows:
This festival will be a fully hybrid event with a full physical audience whilst also being live-streamed on YouTube. This is currently planned as a one-night festival with 6 or 7 bands playing, plus 4 or 5 DJs.
The show will take place in the Students' Union events space, and will form part of the Art School's degree show. The degree show is where all the art students display their end-of-year work. It is a really busy public event across the Benzie, Chatham & Grosvenor East buildings. We will need to maximise on the audience attending the degree show to get them to come to our official aftershow music festival.
We need students to get involved in all aspects of the festival from branding & marketing, to camera operation & vision mixing, to sound & lighting and event management/artist liaison.
This is a professional, public-facing event. You'll need to work to high standards, sometimes under direction, sometimes autonomously. The more you put in to the festival, the more you will get out of it, and the better it will be.
Please check the list of dates. Additional meetings may be required as the project progresses. You will be required to also complete some work in your own time.
What you need to bring to the table
Commitment: we're asking you to commit to the show date, and the dates of the meetings and training in advance of the show.
You will also have to undertake some work in your own time away from these meetings (e.g. creating graphics/animations, writing reviews, scheduling social media posts etc.) – each team usually meets up on an informal basis in between the official meetings.
You will be required to meet deadlines and work to schedules.
This is a student-led project – bring your creativity to the table.
Students will be split into three teams to run all the different aspects of the project:
Technical Broadcast Team (TBT) team will operate the cameras, vision mixing, sound, lighting and run the graphics and pre-recorded packages into the live show.
Events Management Team (EMT) will look after the smooth running of the show – liaising with guests, carrying out risk assessments, logistics and ensuring good communication.
Marketing & Branding Team (MBT) team will look after the creation of the show's graphics along with creating and distributing social media and other promotional content.
In A Nutshell...
Gain hands-on experience... working on a professional live music event
Choose a team ... Events, Tech & Marketing
Use new equipment ... operate a full Blackmagic streaming setup
Improve your CV ... add to your showreel with professional content
Receive full training ... don't worry if you don't have experience, or you're not from an arts background we will train you, and you can shadow others who do have experience
Earn up to 180 Rise points ... which can be recognised within your degree.
Schedule
12:00 to 13:00 on 06/04/23 - SODA 2.19/The Union




1st Production Meeting

Introduction to the project. Students will be assigned to teams/roles. Work will start on announcements, graphics and venue layout plans.

25/04/23 to 02/06/23 - SODA 2nd Floor Village Green 2.19/Various




Various Production Meetings/Deadlines/Site Visits (TBC)

Throughout April and May we will be meeting regularly to plan announcements, conduct site visits, set and meet deadlines for marketing campaigns etc. The times/dates will be confirmed during the project, and will vary team by team.

03/06/23 to 08/06/23 - The Students' Union




SETUP DATES

There will be several setup days. Times and dates will be confirmed closer to the time, they will be different depending on which team you are in. This will include: camera setup, lighting setup, venue/green room setup, sound setup.

09/06/23 to 10/06/23 - The Students' Union




SHOW DAY (Bands & DJs Perform)

This is the big day - everything that we've been working towards will be put into action. Bands & DJs will arrive, soundcheck and play their sets; we will live-stream the whole show and welcome the full audience into the venue. Will be a long day!