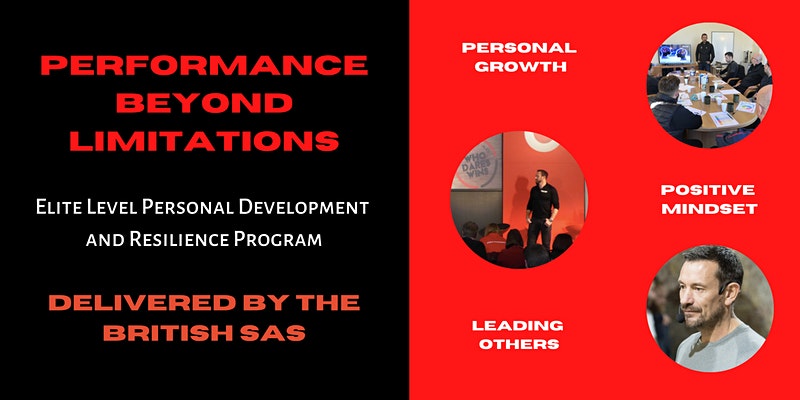 Takes place with a fixed time and schedule
2nd November
10:00 to 16:00
Log In To Book
Performance Beyond Limitations: With the British SAS
Manchester Metropolitan University and members of the British Special Air Service have teamed up to design a year long resilience, personal development and leadership programme. Delegates will be coached by the SAS to excel professionally, academically, in life and during careers through elite level performance tools.
A yearlong 5 part developmental course with the British SAS and stars of Channel 4 SAS Who Dares Wins. This is a life changing experience! The course is designed and led by SAS soldiers Ollie Ollerton and Jason Fox who are both best-selling authors and have a significant media presence through their work on Channel 4's SAS WHO DARES WINS TV show. Both are decorated war veterans having taken part in numerous SAS missions and having worked in some of the most hostile environments in the world. ------------------------------------------------ The Performance Beyond Limitations Programme will be delivered via five seminars throughout the year. Delegates should choose to attend at either 10am – 12pm or 1400-1600 on each of the days: Understanding your Personality Dealing with Emotions Developing a Mission Statement for Life The Power of Positive Affirmations Goal Setting --------------------------------------------- The following topics will be covered: High performance habits of the SAS Excel whatever the circumstances The power of a team and asking for help Decision making under pressure Making an impact Honesty about your strengths and weaknesses - knowing yourself inside out Understanding our barriers to achievement and adapting our approach Self-doubt, Inadequacy, Failing and Reflective Practice Personal development and growth How ordinary people do extraordinary things Finding inner strength and dealing with a negative mind-set Self-Motivation, being led and leading others You will receive: Delegates can access an optional individual PRISM behavioural report - that allows them to evaluate and build - based on the findings Regular Q&A with SAS Operatives A blend of webinars and face to face events as well as targeted podcasts and development exercises between seminars
In A Nutshell...
Develop ... transferable skills to excel through positive energy and growth mindsets
Reflect ... press pause and develop following a challenging period
Build ... a strong network of support and coping strategies for resilience in work and in life
Be rewarded ... with a your certificate of achievement from Break Point and the option to progress
Boost ... your CV and make it stand out with this brilliant talking point
Earn up to 50 Rise points ... which can be recognised within your degree.
Schedule
10:00 to 16:00 on 02/11/21 -




Attend an event