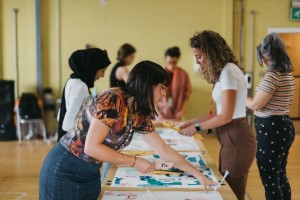 Takes place with a fixed time and schedule
10th January
to 13th February
Log In To Book
Museum of Half Truths Creative Internship
Work with Museum of Half Truths, a curatorial platform with previous exhibitions in Manchester and Hong Kong.
We are looking for 10-15 interns to work with us to develop and deliver a creative, public facing response to the Helen Cammock and Jasleen Kaur exhibitions at Touchstones Rochdale.
Starting in January 2022, successful applicants will work collectively with the support of Museum of Half Truths to plan a takeover of the learning space in the gallery for the closing weekend of the exhibitions.
Museum of Half Truths is a research project aiming to take a playful look at the role of museums in our lives and how we can take a more active role in shaping them. As a group you will work together to respond to Touchstone's exhibitions in a creative and engaging way, producing mini exhibition, tour, zine, workshop or activity to celebrate the closing weekend.
You don't need to be studying on an arts course or have any experience in exhibitions or events based work. We are looking for students who are open to working collaboratively as a group and have an interest in museums or galleries.
In your expression of interest please tell us a bit about yourself, your work and why you would be interested in working with Museum of Half Truths and your fellow interns.
Closing date for applications: midnight on Monday 6th December.
Successful applicants notified by w/c 13th December.
Project will start w/c the 10th January 2022.
We will have weekly meetings made up of training, workshops and collaborative activities. Exact dates will be confirmed with successful applicants by 17th December.
The project outcome will take place at Touchstones in Rochdale on the weekend of the 12th – 13th February 2022.
For additional information or to raise any questions please contact r.burns@mmu.ac.uk.
In A Nutshell...
Work collaboratively... to organise activities inspired by the exhibitions programme at Touchstones Gallery in Rochdale.
Get experience... in developing and running a public arts programme at a museum and gallery.
Develop your skills... by working as part of a collective of interns with the support of staff from MMU and Touchstones.
Help shape... the future activities and research interests of Museum of Half Truths, a curatorial platform with previous exhibitions at Contact Manchester and 1a Space Hong Kong.
Earn up to 160 Rise points ... which can be recognised within your degree.
Schedule
10/01/22 to 13/02/22




Internship