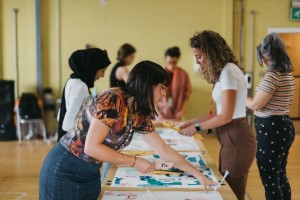 Takes place with a fixed time and schedule
Log In To Book
Museum of Half Truths Creative Internship
Work with Museum of Half Truths, a curatorial platform with previous exhibitions in Manchester and Hong Kong, on a project around the National Football Art Prize.
We are looking for 10-15 interns to work with us to develop a personal research project inspired by the exhibitions of Simeon Barclay and the National Football Art Prize at Touchstones Rochdale.
Successful applicants will form a small community of research with the support of Museum of Half Truths, developing a creative response with the opportunity to present their outcomes in a showcase at the end of the project.
Museum of Half Truths is a research project aiming to take a playful look at the role of museums in our lives and how we can take a more active role in shaping them. You'll have five weeks to focus on your research question, which could be focused on museums, libraries or archives, or engage with the themes of Simeon Barclay's work or the National Football Art Prize. As a group we'll work through some creative and critical thinking activities to aid your research, and you'll have the opportunity to hear from staff at Touchstones Rochdale about roles and career development in the museum sector.
You don't need to be studying on an arts course, and your research can take any form. We are looking for students who are open to experimenting with new ways of working and contributing to a collaborative and supportive group dynamic.
In your expression of interest please tell us a bit about yourself, your work and why you would be interested in working with Museum of Half Truths and your fellow interns.
You can see examples of some previous projects from RISE interns and collaborators here.
For additional information or to raise any questions please contact r.burns@mmu.ac.uk.
In A Nutshell...
Develop your research... working as part of a collective of interns with the support of staff from Man Met and Touchstones.
Work collaboratively... to contribute to a community of research and skill sharing.
Learn more... about careers in the museum and heritage sector.
Help shape... the future activities and research interests of Museum of Half Truths, a curatorial platform with previous exhibitions at Contact Manchester and 1a Space Hong Kong.
Schedule
11/05/22 to 24/06/22




Internship

5 collaborative study days and another 5 days of independent working within these dates.