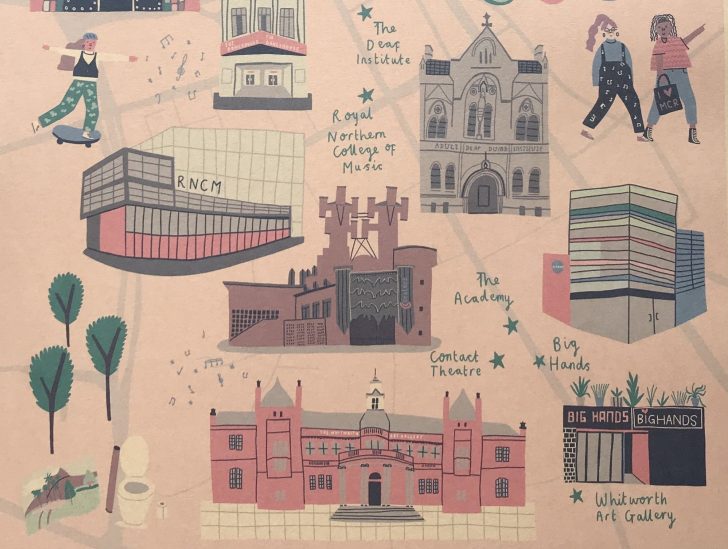 //REWORK THIS
Activity: Takes place with a fixed time and schedule
7th October
15:00 to 17:00
You will earn 3 bronze points for completing this activity.
Log In To Book
Invisible Cities: Manchester Walking Tours
See Manchester in a new light, or begin to get to know your new home, right from the doorstep of Man Met Uni! These tours are run by Invisible MCR and are run by people who have been affected by homelessness
Wonderwalk Through Manchester with Nic
This tour of Manchester maps the city's illustrious history of music and art, focusing on the venues and musicians which have helped to shape Manchester's music scene.
'Wonderwalk' will be led by Nic, a friendly and entertaining tour guide, who wants you to fall in love with the music of Manchester as he did from an early age.
With every turn, and every stop, Nic will brighten and enlighten you with tales and stories that combine the city's and his own rich musical experience. You'll be taken on a journey through the Rave Revolution, sparked by the hacienda, to the presence of reggae at Thirsty Scholar, and not forgetting the classical opera scene at the Royal Northern College of Music and Bridgewater Hall. The tour champions the legacy of Madchester that will never be lost, but also supports and empowers our smaller venues (which is now more important than ever) who play a huge part in the city's never-ending, unique music scene.
Nic strongly believes music is for everyone. Within the tour he takes you to corners of the city's community that inspire and introduce music, art and dance to those who are isolated or anxious.
Nic lives his life by these words: music is medicine, music lifts your spirit, softens your heart and brings people together.
In A Nutshell...
See... Manchester through new eyes with these special walking tours from Invisible Manchester
Walk... and learn about the creative, musical, artistic, and poetic scenes that Manchester breathes
Learn... about the different ways people live in the city, hear about journeys of homelessness and see Manchester from new perspectives.
Meet... new people and see new places
Uncover... some of the hidden gems that your city has going on
Earn up to 3 Rise points ... which can be recognised within your degree.
Schedule
15:00 to 17:00 on 07/10/21 - Meet All Saints Park, Oxford Road entrance




Wonderwalk Through Manchester with Nic

Walking Tour