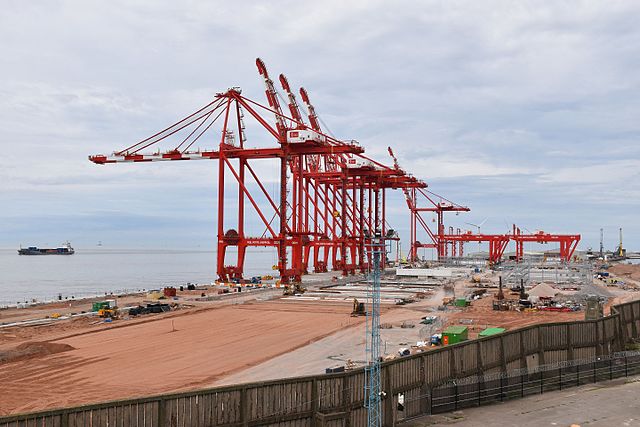 //REWORK THIS
Activity: Takes place with a fixed time and schedule
You will earn 80 gold points for completing this activity.
Log In To Book
Internship: Blue Carbon in UK Ports
Analysing sediments from the Port of Liverpool to investigate the climate impact of dredging and the potential for carbon storage
Dredging sediments is important to keep our ports operating, but does the process of dredging also release carbon from the sediments? This project will try to find out.
This project will involve laboratory work at MMU, analysing sediments from the Port of Liverpool. Initially, you will be looking at the total amount of carbon and nitrogen stored in the sediments, and if successful the project may expand to include particular target compounds or "heavy metal" elements.
The day-to-day work will involve spending time in the laboratories at MMU, following standard operating procedures for elemental analysis. You will need to carefully follow the instructions in order to generate a high quality dataset.
There is also a possibility of fieldwork in the port, on a boat belonging to the project partner, Peel Ports, although this cannot be confirmed at the moment.
This is the project description provided by Peel Ports, outlining their motivation for supporting this internship:
As a Statutory Harbour Authority Peel Ports must maintain safe navigational access into each of our ports, a process achieved through dredging. There are a variety of dredging methods which can be applied depending on sediment type and dredge requirement. Peel Ports are continually reviewing opportunities for dredge sediment to be re-used beneficially, for example to create and enhance habitat and have pledged to be net zero by 2040. However more recently the Port would also like to understand the carbon storage properties of their sediment to better inform beneficial re-use initiatives. This is an exciting project to enhance understanding of carbon storage properties in sediment across the Port of Liverpool, results from the study will inform existing dredge practices with the aim of enhancing local blue carbon stores.
The project will work with the Port of Liverpool to review the carbon storage properties of local sediment across the Port of Liverpool Jurisdiction. Students will have the opportunity to come onboard the Ports hydrographic survey vessel to collect grab samples for sediment carbon analysis.
The primary aim of the project will be to review the carbon content of sediment in locations which regularly undergo maintenance dredging and compare this against areas where maintenance dredging has not taken place in excess of 5 years, in order to assess if there is a difference in carbon storage properties across areas which have been regularly dredged and those which have not. Students will also review sediment grain size and potential influence on carbon storage potential.
Associated Badges:
In A Nutshell...
Collaborate ... with an important infrastructure operator
Upskill ... in advanced environmental chemistry techniques
Make a difference ... by helping to understand the climate impact of port activities
Experience ... laboratory work in the MMU labs
Earn up to 80 Rise points ... which can be recognised within your degree.
Schedule
14/06/23 to 30/06/23




Laboratory work analysing sediments

In the MMU labs, you will be trained and supervised in the analysis of carbon and nitrogen in sediment samples