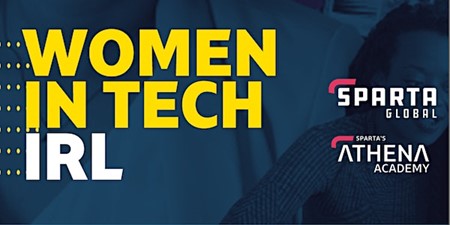 //REWORK THIS
Activity: Takes place with a fixed time and schedule
You will earn 8 bronze points for completing this activity.
Log In To Book
How to kickstart a career in Java - Women in Tech IRL
Join us for an introductory session to Java Automation and discover how our all-women scheme can help more women kickstart their career
The Tech industry is BOOMING, and with IT skills in strong demand, deciding to become a Java Automation expert opens you up to endless opportunities for an impressive career.
Exclusively for women and non-binary individuals, this Sparta Global workshop promises to present the realities of working in Java, the opportunities for progression and personal development that come with the in-demand role, and introduces Sparta Global's new Athena Academy - and all-women scheme that offers budding women in tech the opportunity to train and work with Sparta Global.

What you'll take away:
Tech Skills for the Workplace | You'll leave the session with an understanding of what you need to become a highly skilled and highly valued tech specialist in Java. *Spoiler alert: we can help you gain these skills!*
Career Opportunities | Discover the type of jobs that will be available to you with fundamental Java training and skills in the bag, what they're like and how to get them!
Progression | Get excited by your technical development and hear how it could alter your future salary expectations and job progression!
How to start your career | Understand how you can kickstart your career in a matter of months through the Sparta Global Academy and its all-women Athena Academy.

Cathy French has spearheaded curriculum innovation since joining Sparta Global. Bringing an incredible wealth of experience from her many degrees and heading up the software development group at Staffordshire University, Cathy is an expert at applying technical theory in practice within development workspaces.
Her expertise coupled with her nurturing approach makes her the ideal host to introduce you to Java!

Sparta Global:
Sparta Global has been helping graduates, non-graduates, career changers, and returners, to kickstart careers in business and technology for more than a decade. More than 3000 individuals have now successfully completed our specialist training programmes and gone on to work on site with Sparta clients, and we work 100 public and private sector businesses across almost every industry area.
An award-winning equality, diversity and inclusion (ED&I) employer, we pride ourselves on removing barriers to entry across technology – hiring based on attitude and aptitude and potential, providing free training, paying trainees during training, and providing continued pastoral and professional care for all Spartan employees as they kickstart their careers. Sparta Global is the only B Corp Hire, Train, Deploy company, a Top 20 employer for Social Mobility, Princess Royal Training Award winner, and official Women in Tech partner.
Find out more about Sparta Global here.
Our Athena Academy:
An alternative way to access Sparta Global's opportunities for training and careers, the Athena Academy offers women the chance to join, learn, work, and grow into future tech leaders – providing them with the confidence, skills, and connections to build a profitable and powerful tech career.
Trained by an award-winning female training team, and learning alongside a small all-women cohort, the Athena Academy is a supportive and safe space to push the limits of your potential.
Find out more about Sparta's Athena Academy here.
In A Nutshell...
Kickstart...your career through the Sparta Global Academy
Discover...career opportunities
Understand...the skills required for a career in tech
Network...with fellow students and professionals
Earn up to 8 Rise points ... which can be recognised within your degree.
Schedule
12:00 to 14:00 on 04/04/23 - https://www.eventbrite.co.uk/e/how-to-kickstart-a-career-in-java-tickets-591477865217?utm-campaign=social&utm-content=attendeeshare&utm-medium=discovery&utm-term=listing&utm-source=cp&aff=escb




Register on eventbrite to attend online