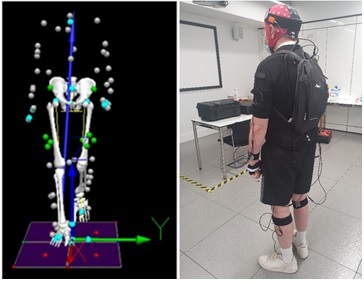 //REWORK THIS
Activity: Takes place with a fixed time and schedule
You will earn 140 bronze points for completing this activity.
Log In To Book
How do we walk? – CGI technology to help people walk better
Manchester Metropolitan University has state of the art technology for measuring how we walk. This is similar to how CGI films are made, and we use it to understand how a disease or injury affects our ability to walk. We want you to compare two different types of gait analysis equipment and write it up for a research publication.
Host Researcher: Dr Hannah Jarvis
We often take being able to walk for granted, but when someone has a disease or injury it can really affect their ability to walk. This can mean that they sometimes cannot do normal activities (go to the shops, get dressed etc) and even lose their job (
www.bbc.co.uk/news/uk-wales-50168047
). We use lots of different equipment to measure how someone who has a disease or injury walks, but we need to know whether there are differences between the equipment. We would like to recruit two Rise internship students to work together to lead their own research project to compare two different types of gait analysis equipment. This is an important project because a better understanding of the two analysis types will ensure the most suitable option is used for future research. This will lead to a better and quicker recovery of walking in people who have a disease or injury. You will be required to learn how to use the two state-of-the-art gait analysis equipment called XENS (
Home - Xsens 3D motion tracking
) and Qualisys Motion Capture System (
Qualisys | Motion Capture Systems
), collect data on 5 participants, analyse this data and then compare the results. You must be hard-working, and keen to learn, but we will teach you how to use all the software and equipment. So, if you fancy a challenge, want to contribute to leading research, publish on it (which will look great on your CV!) and make a difference to people's lives this is the project for you!
In A Nutshell...
Collaborate... Work with leading gait analysis researchers
Technology... Learn how to use world-leading gait analysis equipment
Research with impact... Publish your research in a scientific journal
Improve outcomes... for patients with disease or injury that affects their ability to walk
Earn up to 140 Rise points ... which can be recognised within your degree.
Schedule
05/06/22 to 26/06/22




Learn how to use equipment

To support data collection

05/06/22 to 26/06/22




Data collection

Collect data from participants using state of the art CGI technology

05/06/22 to 26/06/22




Data analysis

Analyse data collected