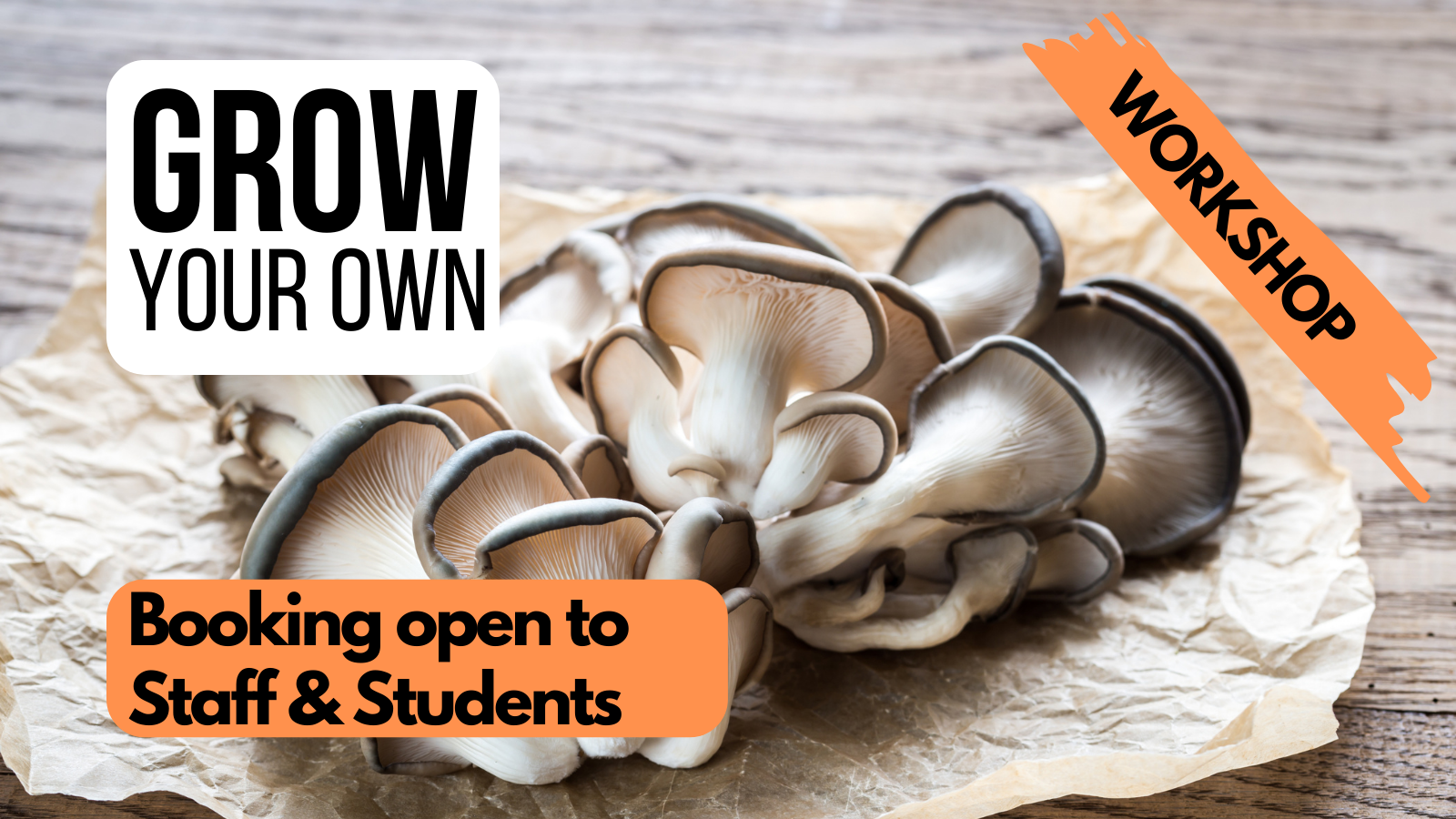 //REWORK THIS
Activity: Takes place with a fixed time and schedule
23rd November
17:30 to 18:30
You will earn 4 bronze points for completing this activity.
Log In To Book
Grow Your Own: Mushroom Workshop
Learn how to grow your own delicious gourmet oyster mushrooms using simple home cultivation methods. Includes FREE samples to take away!!!
Come down to GROW Café in the Business School North Atrium, where our local Mushroom growing partner' Mycolitos, will lead a hands-on session, where you can work alongside other staff and students to create your own mushroom substrates, a process that you can then repeat again and again from you own repurposed household wastes.
You will leave the class with a better understanding of these sustainable food production methods, containers of future oyster mushrooms packed with goodness and a free foldey fungal maintenance guide that will help you to care for them.
The growth of an organism like fungi is a fun practice, a piece of holistic knowledge that can help reconnect a person with the planet. A better understanding of nature can inspire a fascination, encourage acts of sustainability and help to improve health and well-being.
Please meet Norton and Julia in the GROW Café in the Business School North Atrium.
In A Nutshell...
Collaborate ... with students across the university
Upskill ... in a development programme facilitated by expert parners
Engage Online ... a Teams-based opportunity scheduled for Wednesday evenings through Block 2
Show Leadership ... and the opportunity to demonstrate creative problem solving
Gain Recognition ... with an externally recognised certification
Earn up to 4 Rise points ... which can be recognised within your degree.
Schedule
17:30 to 18:30 on 23/11/22 - GROW Cafe, North Atrium, Business School, All Saints Site




Grow Your Own: Mushroom Workshop

At this event, you'll gain new mushroom cultivation skills and get to know like-minded individuals.