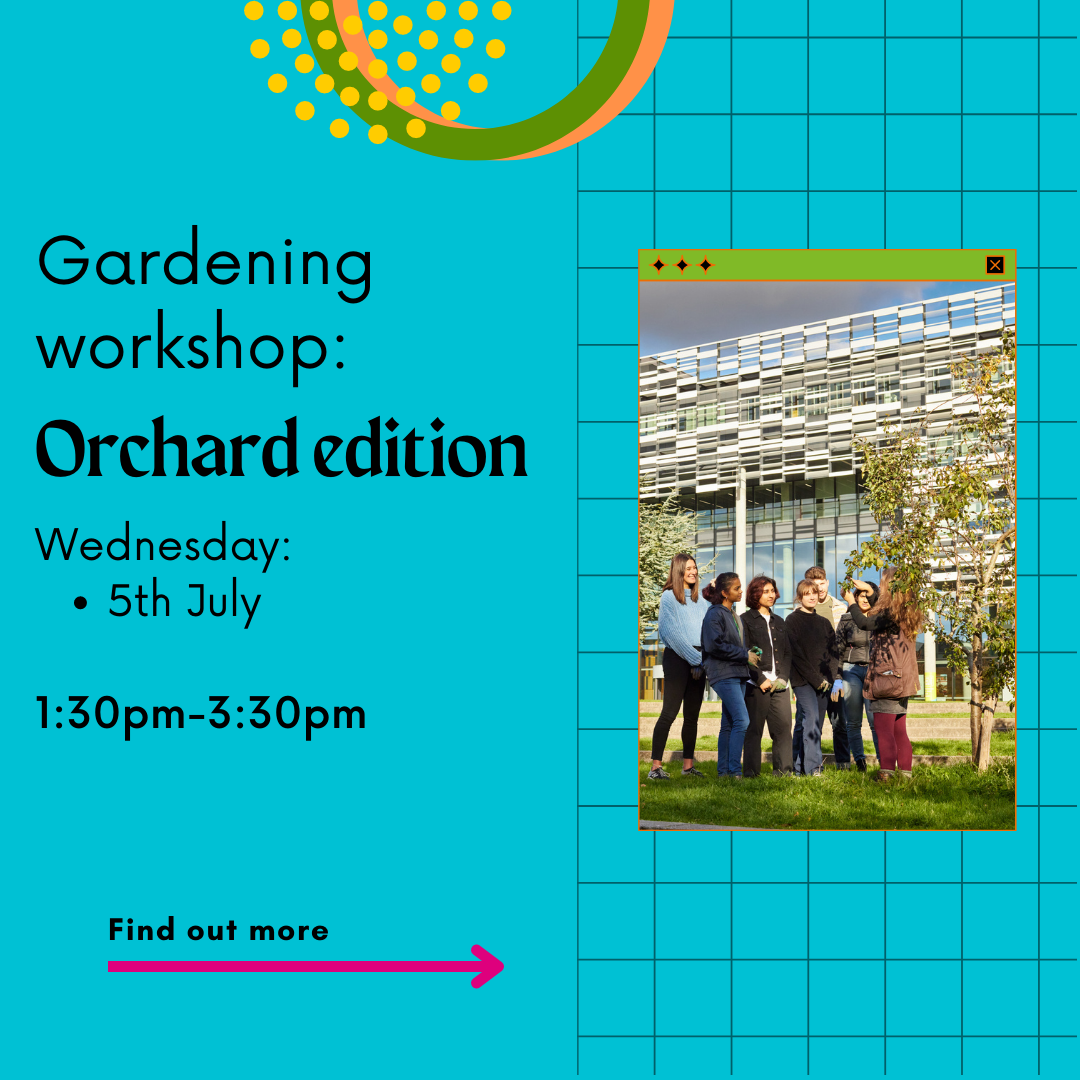 //REWORK THIS
Activity: Takes place with a fixed time and schedule
You will earn 15 silver points for completing this activity.
Log In To Book
Gardening Workshop: Orchard edition
There'll be plenty to get stuck in, with a variety of planting, pruning and Garden Centre craft/gardening activities. Join us on Birley campus to help improve our Orchard area by the Brooks building.
Summers started & we want your help to improve our Orchard area by the Brookes building. There'll be plenty to get stuck in, with a variety of planting, foraging and wellness activities.
Our local partner Hulme Community Garden Centre and leading the session, and you will be working alongside staff, students and local residents and volunteers to learn about woodland management.
This session will take place come rain or shine, please wear appropriate clothing, and ensure you come in suitable footwear (no open footwear allowed, if it is raining please wear wellies or boots).
Please meet Kath in front of Brooks building at 1:30pm, we'll then head over to the Orchard area on Birley campus in front of the Brooks building (join us here if you arrive after 1:30pm).
Associated Badges:
In A Nutshell...
Collaborate ... with students & staff across the university
Upskill ... in a development programme facilitated by expert partners at Hulme Community Garden Centre
Show Leadership ... and the opportunity to demonstrate creative problem solving
Improve Wellbeing... by joining a community of students & staff in outdoor spaces
Earn up to 15 Rise points ... which can be recognised within your degree.
Schedule
13:30 to 15:30 on 05/07/23 - Brooks Building, outside main entrance




Gardening Workshop (Ocrhard by Brooks Building)

Attend the event to receive points