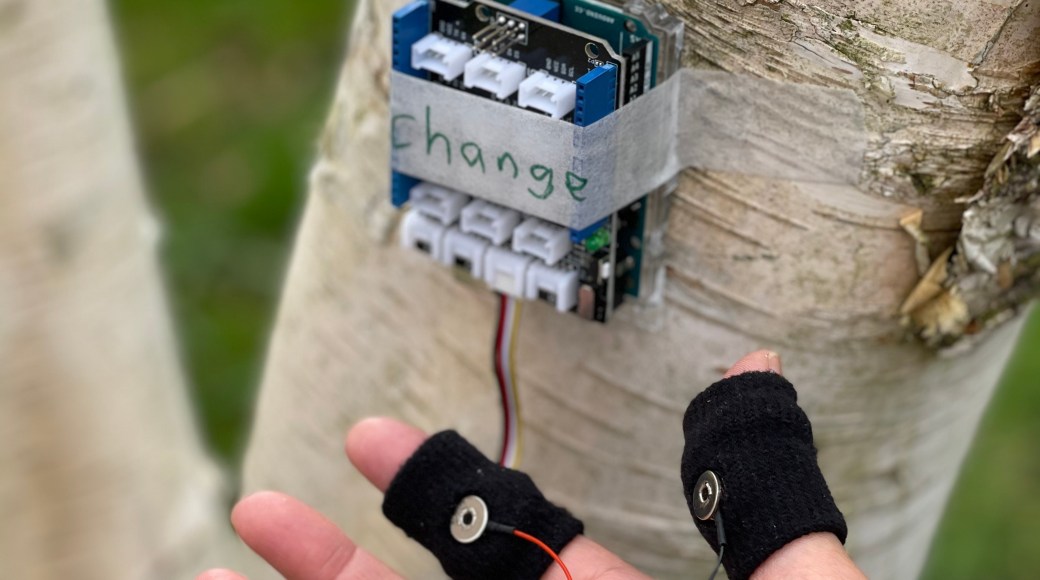 Takes place with a fixed time and schedule
Log In To Book
Galvanising Change: using emerging technology to support climate justice storytelling
Research and develop Galvanising Change, an experiential audio installation using a wearable sensor to explore climate justice stories. Use desk research, audience data and self-testing to improve the audience journey, or work on story development by prototyping how machine learning could inform language choices to foster conversation and action.
Research Hosts:​ Artist Maya Chowdhry & Researchers, Dr Erinma Ochu (iSchool) & Professor Keeley Crockett (Computing)
Galvanising Change
is an experiential audio Installation exploring climate change, for one audience member at a time. Devised by artist,
Maya Chowdhry
, it uses a wearable sensor to measure the audience's
galvanic skin response
to measure anxiety/excitement, or calmness, whilst the audience listens to a climate justice story. The audience member's readings trigger different versions of each part of the story, depending on whether they feel calm or anxious. Evidence suggests that anxiety can impact the ability to process information and make decisions. This is the case for those who have already experienced stress due to, for example, lived experience of racism, and /or climate anxiety. This means that climate justice stories, which may feature racism, need to be crafted with care, so that audience members are able to process their emotions, discuss their experiences, ask questions and consider actions. The first version of the Installation, was developed by the artist during the Net//Work Residency with Digital Art Studios and The British Council. It was presented at, and live streamed from, Hulme Community Garden Centre, Manchester in May 2021. You can watch an extract from the experience
here
. Maya is now researching and developing the installation with research funding from #OpenLight, a climate and culture equity platform for artists and entrepreneurs founded by Dr Erinma Ochu at MMU.
The opportunity
This research internship offers students the opportunity to work with the artist and gain input from researchers from the arts, humanities and computing science to work on one of the following:
Audience Journey: review, creatively document and revise the audience journey using digital design tools, informed by user experience research, human centred design and human-computer interaction
Wearable Sensor: Review, compare and contrast the use of galvanic skin sensors to devise a baseline to improve the triggering of the choice of story experienced by different audience members
Machine Learning and emotive language: Research, devise and document an approach to explore the role of machine learning tools to improve the choice of emotive language in the climate justice stories to reduce anxiety, foster conversation and action
These three aspects will support the artist to develop a proposal to enhance the audience experience in a new version of the installation to support climate justice through anti-racist storytelling, prompting reflection, conversation and action. The outputs from the internship may include:-
Audience experience maps highlighting areas for improvement and an updated audience experience map to inform the next version of the installation
A briefing document offering insights and recommendations to improve the galvanic skin response elements within the installation
A briefing document outlining the rationale, methodology, tools and test results from machine learning experiments with key recommendations and next steps to develop the tool further
A pitch presentation deck presenting each students' work and key references
An online repository of annotated key references, using referencing tool, zotero
An online repository of code, using github.
A short video sharing learning from across the three elements of the project.
Each student will be supported to work online, use digital tools to document and share their progress with the artist. Interns will be required to complete the following self-study packs:
Key Research Skills
Physical Computing
Researching Race and Racism
In A Nutshell...
Contribute... to a pioneering climate justice installation
Collaborate... with an artist, researchers and fellow students
Flexible working... online and/or in person COVIDsafe working
Document... work to share progress and insights
Schedule
10/05/22 to 31/05/22




Onboarding

Get to understand the exhibition, and meet the artist and team before embarking on your independent work

10/05/22 to 18/06/22




Research Internship

Opportunity to undertake research with an artist working on developing an exhibition