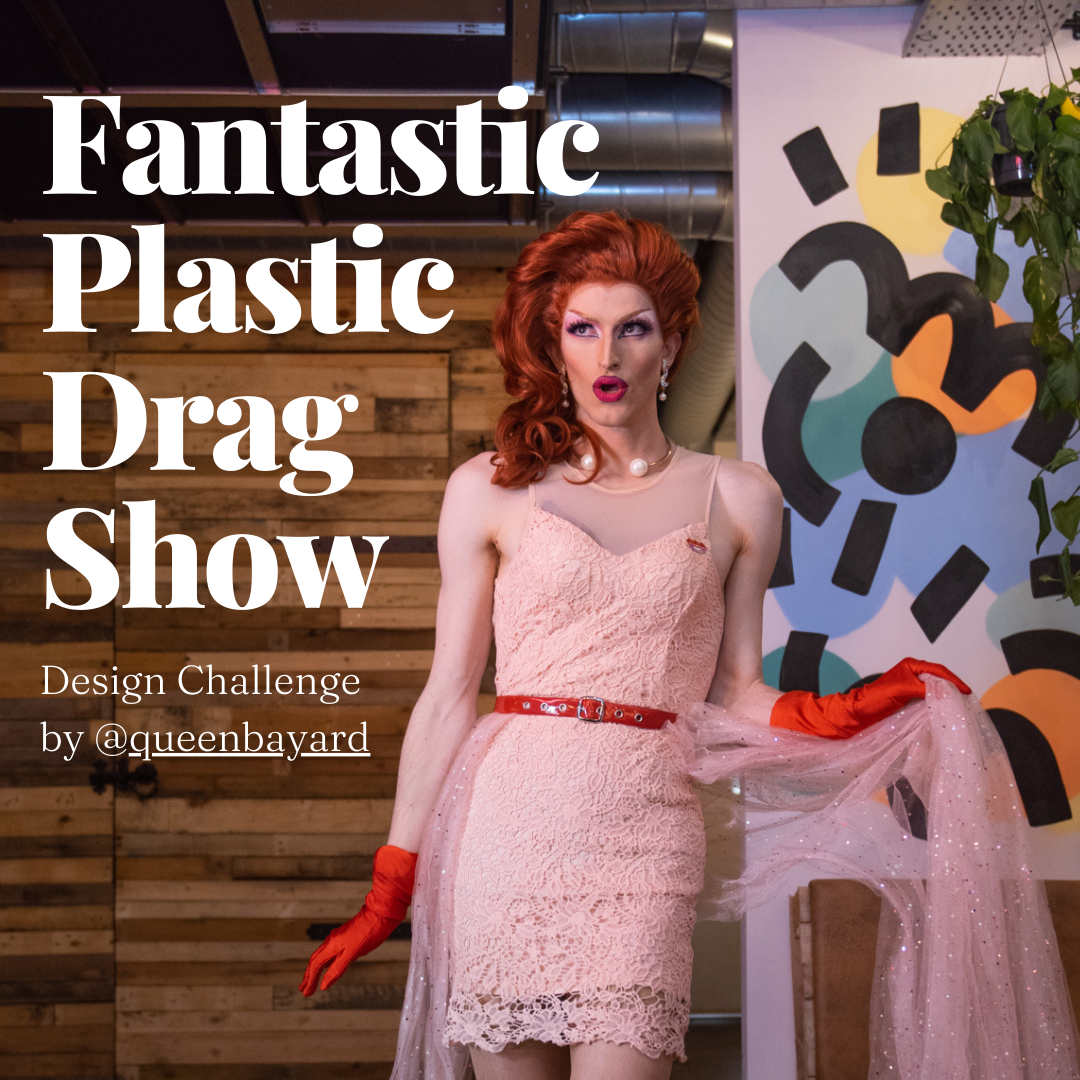 //REWORK THIS
Activity: Takes place with a fixed time and schedule
You will earn 150 gold points for completing this activity.
Log In To Book
Fantastic Plastic Fashion Drag Show Design Challenge
Plastic waste and fast fashion are two of the greatest sustainability challenges we currently face. This challenge asks you to tackle these by designing and creating garments from recycled plastic. This challenge has been posed by Queen Bayard, an eco-conscious Drag Queen who will showcase your design at the end of the project.
This project is a design challenge asking you to use your skills and creativity to build garments to meet a brief posed by Queen Bayard. No prior experience is needed, you can come along and learn new skills in fashion design! The challenge stems from creating these items from recycled and recovered plastic, provided by the Plastic Shed, a social enterprise based in Stockport.
You will be given a design brief and material and the rest is over to you! This is a fantastic opportunity to explore design through new and different materials that aren't usually incorporated into fashion. This will pose challenges but by overcoming these you will gain unique skills and first-hand, practical experience in working with these materials.
Support from designers at the Plastic Shed and practitioner Jamie-Lee Wainman will help you to get to grips with these materials and the opportunity to explore the use of 3D printing in fashion design. You will also have the chance to visit these designers' studios and hear their stories of how they used their experience at Manchester Metropolitan to launch themselves into the world of design!
The schedule for this project is as follows:
Friday 2nd June - Introduction to the project
Monday 5th June – Design and 3D printing session at Wainman Design workshop
Tuesday 6th June – Design Session at the Plastic Shed
Wednesday 7th June – Design workshop
Monday 12th June – Design Workshop
Friday 16th June – Finale and showcase at the Midsummer Sustainability Festival
Find out more about the Team
Associated Badges:
In A Nutshell...
Design and create ... sustainable fashion garments from recycled and reused plastic
Discover ... how new materials and technologies can fight the negative impacts of fast fashion
Upskill ... with hands-on practical fashion design and garment creation
Express ... your creativity and make your vision become a reality
Showcase ... your ideas as part of the fantastic plastic drag show
Earn up to 150 Rise points ... which can be recognised within your degree.
Schedule
02/06/23 to 16/06/23 - MFI




Plastic Fashion Design Challenge

This project will be composed of a series of workshops for you to design and create garments from recycled plastic