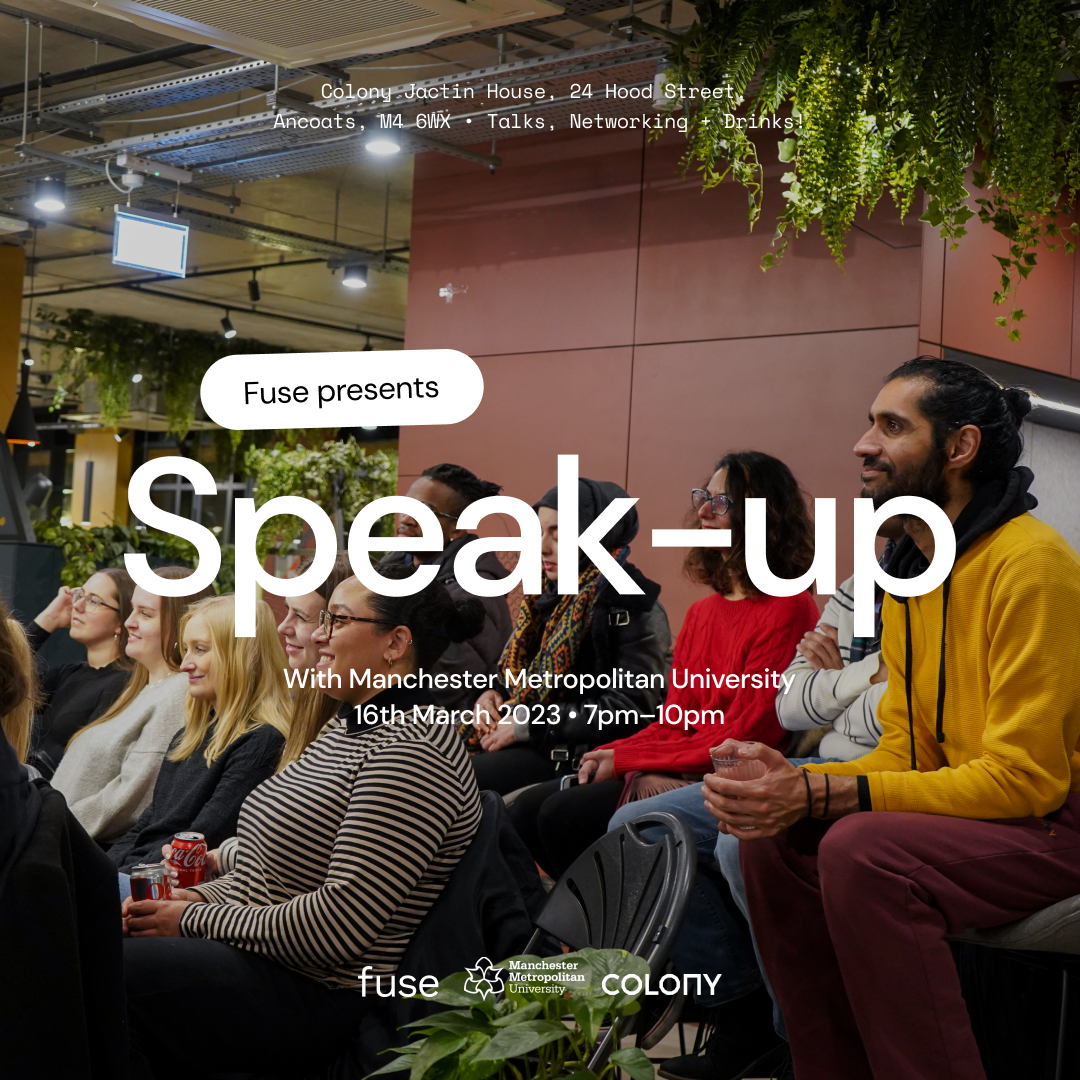 Takes place with a fixed time and schedule
16th March
19:00 to 22:00
Log In To Book
Enterprise Social: FUSE presents Speak-Up
In collaboration with Fuse, we have 30 guest list spaces for their March 16th 'Speak-up' social. 'Speak-up' is a regular event series, hosting speakers in a safe-space that's welcome for everyone. During the event, you'll get the chance to meet fellow creatives and network and listen to inspirational guests.
All our speakers are Man Met alumni too!
Free drinks and refreshments will be available throughout the night. Doors open at 7pm, with the talks starting at 7:30pm(ish)!
Line-up:
• Katie Jones (@mae_jones) Graphic Designer, Lecturer at Manchester School of Art, 1/2 of Ladies, Wine & Design Manchester.
• Jasmine Gardner (@sminspiring_art) Visual Artist, 1/2 of Happening In MCR.
• Muiz (@3u12) Art director, Artist and Designer, 1/2 of Rice & Gold Studio.
• Audrey Albert (@ooathaenaoo) Maker, Artist and Photographer.
About Fuse:
Fuse is a global creative platform elevating the voices and work from creatives of colour – aiming to represent diverse individuals within the industry. All guests in our events are always from underrepresented backgrounds, to match our core values and create a representative lineup.
Follow us at: fusemcr.com & @fusemanchester
In A Nutshell...
Meet...fellow creatives and network.
Listen...to inspirational guests.
Learn...from the experiences of Man Met Alumni.
Ask...questions and get answers to help your journey.
Earn up to 10 Rise points ... which can be recognised within your degree.
Schedule
19:00 to 22:00 on 16/03/23 - Jactin House, 24 Hood Street Ancoats M4 6WX




Enterprise Social: FUSE presents Speak-up!