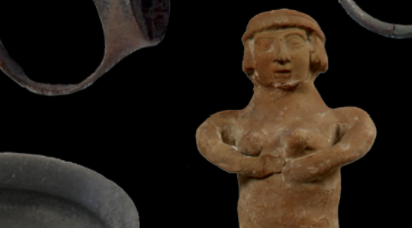 //REWORK THIS
Activity: Takes place with a fixed time and schedule
You will earn 300 bronze points for completing this activity.
Log In To Book
Digital Curation of Ancient Objects
Opportunity for Digital Arts and History students to support in the digitisation of ancient artefacts as part of a real-world project engaging young people from migrant backgrounds
Ancient History, Contemporary Belonging is an interdisciplinary project that connects ancient history, sociology, and the arts at MMU, Manchester Museum, and Sheba Arts. We work with young people from migrant backgrounds to explore the stories that objects and people tell, and what it means to belong in contemporary Britain. You can read more about the project on our website
A central part of this project is producing 3D images and models of artefacts in Manchester Museum, for use in our workshops and an exhibition in 2022 that will be both at the Museum and online.
As part of this work, we are looking for digital arts students who can work with photographic images to produce 3D models, and history students who can research the objects. The students will work closely together, teaching each other new skills, in the digital curation of these artefacts.
The project has already begun and we are looking for students to join us as soon as possible.
What you need to bring to the table
Commitment: 3D images and models are an integral part of the project and we require students committed to undertaking this work by agreed dates.
Independence: you will be undertaking much of the work (whether on the 3D images or researching objects) in your own time.
Flexibility: there will be busier and quieter periods throughout the project.
Interest in learning new skills, about new topics, and engaging with students and researchers from multiple disciplines.
Team work: students from digital arts and history will share knowledge, provide training in new skillsets, and collaborate to digitally curate the artefacts.
In A Nutshell...
Gain hands-on experience ... producing digital images, sharing skills, digital curation
Work as a team ... digital arts and history students will work together
Share knowledge ... share skills, teach your peers, co-produce knowledge
Receive mentorship ... from professionals
Improve your CV ... add new skills and add to your portfolio with professional content
Receive full training ... students will help upskill each other – historians will learn digital skills, while art students will learn about heritage and history research, with support from MMU staff
Earn up to 300 Rise points ... which can be recognised within your degree.
Schedule
13:00 to 15:30 on 08/12/21 - GM G14




Initial Meeting

Meet the rest of the project team to understand its objectives and deadlines, our expectations and how you will work together to deliver them.

09/12/21 to 31/05/22




Project Work

Through this period, you will work to a flexible independent schedule to digitise artefacts and explore platforms to engage people with them. Your Rise points will be calculated based on the extent of your contributions to work.