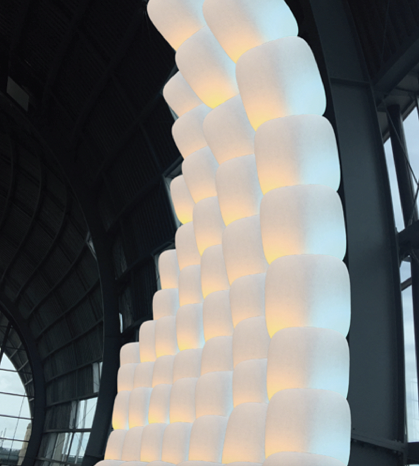 Takes place with a fixed time and schedule
Log In To Book
Co-Designer roles for development of artwork for International Fibre Art exhibition China
As co-designers you will be working alongside lead artist Kate Egan to develop an artwork to be included in Being Theoria, Triennial of Fibre Art, Hangzhou, China. The role will enable you to gain insight, understanding and contribute to the process of collaborative practice-based research.
Research Host: Kate Egan
The Hangzhou Triennial of Fibre Art takes place in China in Autumn 2022. Kate Egan is collaborating with Prof Assadour Markerov to create a participatory textile artwork for this prestigious international exhibition. Rise students will be working directly with Kate Egan at the School of Art and will be engaged in the production of a practical prototypes through visualisations, physical testing with textile forms, documentation of the process through photography and brain storming materiality. The role would suit textile or fine art students with graphic knowledge for documenting, software, structural embroidery/material understanding, 3D printing, visual skills and photography. The research focusses on developing TRANSMEDIAL STITCHES - a collaborative 'happening' using audience manpower as technology for immersive contemplation and altered states. Rise students will gain an understanding of working to commission and how collaborative practice works.
https://www.textile-forum-blog.org/2016/07/weaving-we-2016-hangzhou-triennial-of-fiber-art/
https://www.tandfonline.com/doi/full/10.1080/14759756.2020.1784573
Two to four places are available. In your expression of interest, write a 250-word statement on why you are applying and what you would get out of this role. If [possible include links to 5 images of your current work and key skills in: ·       Creative cloud software ·       Photography ·       Visualisation techniques ·       Making/Material knowledge We recommend you sign up for - Key Research Skills package as part of the internship in particular.
In A Nutshell...
Research... practical research into textile structures and contextual research
Develop... making test samples of structural textiles
Collaborate... making in design studio, machine room, software
Co-design... problem solve, test and document practical solutions
Visualise... create visualisations of the artwork in different states
Earn up to 300 Rise points ... which can be recognised within your degree.
Schedule
01/06/22 to 30/06/22




Internship

Internship will take place on dates TBC in June 2022.