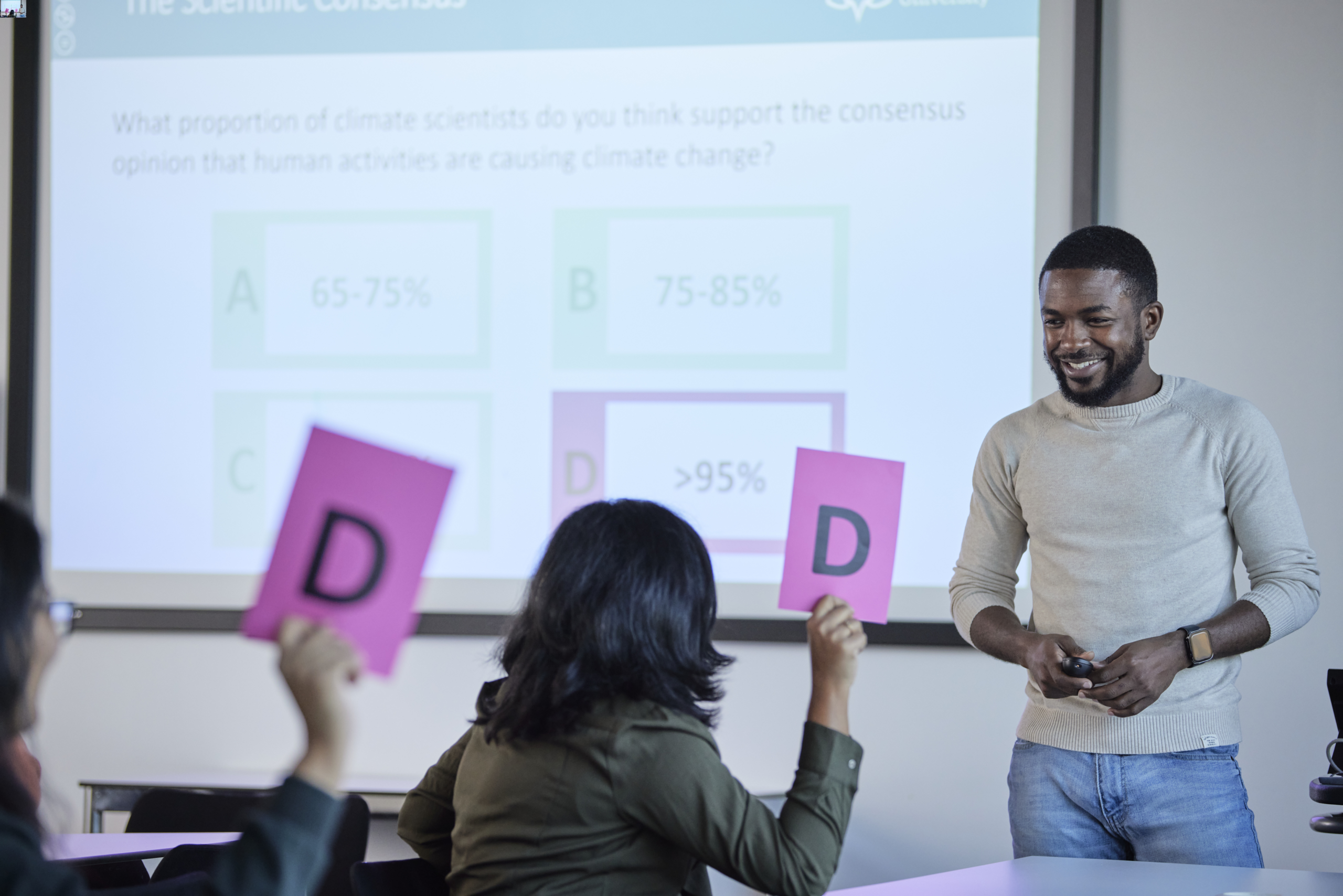 //REWORK THIS
Activity: Takes place with a fixed time and schedule
You will earn 40 bronze points for completing this activity.
Log In To Book
Carbon Literacy Facilitator Skills Workshop
Are you passionate about climate change? Do you want to play an important role in the University's role in responding to this crisis? If so, join our Carbon Literacy Facilitator Programme!
About the Facilitator Programme:
In response to the urgency of the climate crisis, and in line with Manchester Met's Sustainability Strategy, we are currently working with lecturers to scale up Carbon Literacy training, with the aim of offering it as a standard part of all degree programmes by 2026. To support this effort, we are recruiting students to provide vital facilitator support in these sessions. This workshop will equip students with the skills necessary to act as Carbon Literacy facilitators. The Facilitator Skills Workshop will be held over one half-day session on Friday 2nd June from 09:30 - 13:00
Facilitators do not lead training sessions, but provide vital support, including:
Facilitating discussions at tables
Helping with setting up/clearing up before and after the sessions
Handing out materials
The Facilitator Skills Workshop is the first step for Carbon Literate students who wish to become Carbon Literacy Trainers. The Train-the-Trainer programme will run in early June 2023, but all prospective trainers must have attended the Facilitator Workshop first.
Who Can Attend?
Anyone who has already attended Carbon Literacy training can join the Facilitator Skills Workshop. You do not need to have a Carbon Literacy certificate yet, but you must have completed the full Carbon Literacy training. If you haven't, you may sign up to the regular Carbon Literacy training on 31st May or 1st June, available through Rise. If you have any additional learning requirements, please contact us as soon as you are able, at carbonliteracy@mmu.ac.uk so we can determine how to best support you in undertaking this training.
In A Nutshell...
Develop... invaluable essential transferable leadership and communication skills
Get paid... to facilitate Carbon Literacy training within your department and beyond
Contribute... to the success of Manchester Met's commitment to roll out Carbon Literacy training in all degree programmes by 2026
Make an impact... on the most pressing issue of our time
Earn up to 40 Rise points ... which can be recognised within your degree.
Schedule
09:30 to 13:00 on 02/06/23 - TBC




Carbon Literacy Facilitator Skills Workshop

This session will equip participants with the skills necessary to support Carbon Literacy training as facilitators.