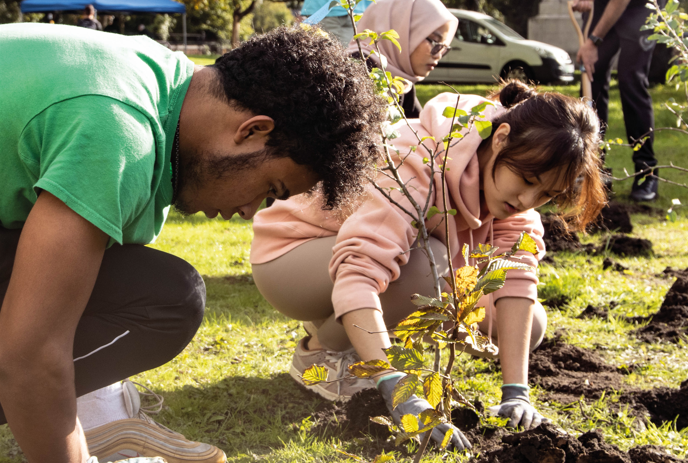 //REWORK THIS
Activity: Takes place with a fixed time and schedule
1st October
12:00 to 16:00
You will earn 20 silver points for completing this activity.
Log In To Book
Ardwick Climate Action Community Bulb Planting and Climate Event
Come and be a part of transforming urban greenspaces with Ardwick Climate Action and set a world record for group flower planting!
Ardwick Climate Actions' mission is to protect our local environment through grassroots advocacy that engages the local community. Their work encompasses the renewing of green spaces, monitoring pollution levels, and climate advocacy through community engagement.
Come along to this community day at A6 Young People's Centre, 32-34 Wilson St, Manchester, M13 9EX. Click here for Google Maps.
Ardwick is one of the most deprived areas in Manchester, and much work is needed to reengage and sensitise the community back to nature and the climate crisis that affects all its residents.
This volunteer day will involve lots of activities where you can discover the benefits of taking care of our local greenspaces and how we can all contribute to climate action. The activities include:
Mass Bulb Planting
Music with Sonja Von Turon
Festical Dress
Active Travel
Biffa recycling station
Air Pollution monitoring and lung station
Bee craft station and local botany and pollinators
Bike Maintenance
Carbon Footprint Calculator
Gren Routes
Keep Manchester Tidy
To claim points for this event use the Rise self-claim portal with evidence of your attendance such as a photo of taking part in one of the many fun events above!
Associated Badges:
In A Nutshell...
Transform ... An urban green space to benefit nature and the local community
Be part of ... a local community lead initiative to make Manchester a more sustainable place
Take action... to build climate resilience in Manchester
Discover... how to create spaces that provide benefits to people and the planet
Collaborate ... with experts and community leaders to grow grassroots advocacy in the local area
Earn up to 20 Rise points ... which can be recognised within your degree.
Schedule
12:00 to 16:00 on 01/10/23 - Greek St, Ardwick, Manchester M1 7EH




Community and Bulb Planting Day with Ardwick Climate Action

Plant bulbs and find out more about greenspaces and climate change!