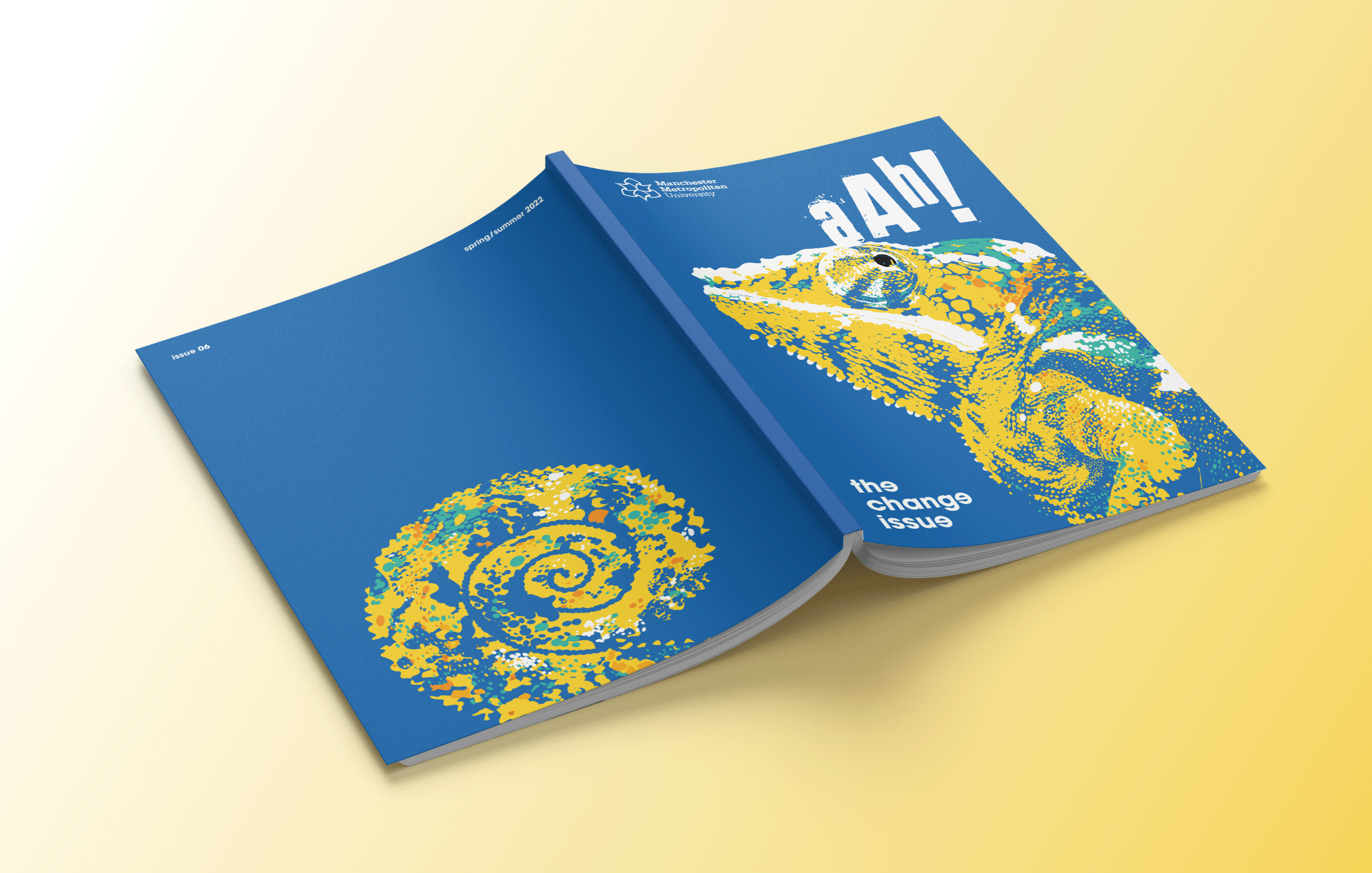 Takes place with a fixed time and schedule
19th July
to 9th September
Log In To Book
aAh! - Magazine Journalism and Design Production Workshops
This opportunity is aimed at all students with an interest in the vibrant world of independent magazines. Our sessions will build your journalism and creative magazine layout skills by exploring aAh! Magazine's latest print brief and focussing on practice-based learning using Adobe InDesign.
Register your interest and availability for this activity here
Get to grips with how your own student magazine is produced and put your new skills into practice by pitching your work for our upcoming print magazine - The FRESHERS Issue. You can also choose to use this opportunity to work on your own independent magazine project ideas and receive feedback.
On campus and online sessions will feature beginner-level interactive exercises covering the entire editorial and production process and additional resources including LinkedIn Learning will enable you to build your skills at your own pace, in your own time.
aAh!'s writing and content briefs will include features, profiles, how-tos, Q&As, previews, reviews, listicles, photography, illustration and more, based around the theme "FRESHERS". You will then work alongside our Graphic Design Collective and be supported to design print magazine spreads using Adobe InDesign and pitch your work to be considered for publication.
The FRESHERS Issue Brief
This special mini issue of aAh! will feature a guide to all Manchester has to offer. We will shine a spotlight on the freshest spots in our city and serve up budget-friendly recipes, share advice, opportunities and experiences.
Packed with tips and tricks to help new and returning students navigate university life, The FRESHERS Issue will be essential reading for all looking to get the most of their time studying in the best city in the world.
aAh! Magazine
aAh! is a well established arts and culture magazine and online platform run by student volunteers with a passion for journalism and a love for Manchester. It is honest, engaging and curious; a trusted source for relevant news, views, creative work and current news and trends.
Join the aAh! Magazine MS Teams Group "General Channel" and follow @aAh_mag to stay in the loop with opportunities.
aAh! is looking for journalists, editors, graphic designers, illustrators, filmmakers, photographers, social media marketers on an ongoing basis to help make aAh! online and print platforms an informed, inspiring, witty and opinionated collection of student voices and talents that make our city brilliant.
To find out more about all the opportunities available at aAh! visit: https://aah-magazine.co.uk/work-with-us/
In A Nutshell...
Collaborate ... with students across the university to produce your student magazine
Build ... your journalism and graphic skills, and a portfolio you are proud of
Participate ... Pitch your ideas and get creative
Engage ... Connect with our interdisciplinary student editorial team, meet new people and learn from new perspectives
Earn up to 200 Rise points ... which can be recognised within your degree.
Schedule
19/07/22 to 09/09/22




You will be invited to share your availability across this project