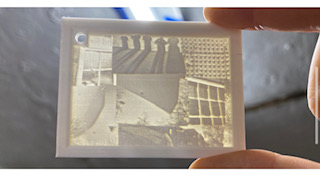 //REWORK THIS
Activity: Takes place with a fixed time and schedule
22nd March
13:30 to 16:00
You will earn 12 bronze points for completing this activity.
Log In To Book
3D printing and Lithophane Making
This workshop is an opportunity to visit a creative studio space at Islington Mill where MMU alumni, Jamie-Lee, explores the creative potential of 3D printing with bioplastics.
The workshop includes a hands-on experience with 3D printing. Students will learn how a 3D printer works and to create their very own 3D print. The main activity will be to explore materials and colours to influence the outcome of a 3D printed lithophane.
3D printed lithophanes work in response to light exposure. When light is placed behind the print, the different thicknesses of material influence the 3D print's transparency. For example, the colour black would be thicker than the colour white which would be very thin. Students will then select their favourite design and send it to Jamie-Lee to 3D print where it will then be posted directly to them. No previous knowledge of 3D printing is required!
In A Nutshell...
Learn from... Jamie-Lee herself
Meet new people... in a creative and fun environment
Opportunities... to learn how to 3D printing.
Have fun... through exploring different materials that affect the transparency.
Earn up to 12 Rise points ... which can be recognised within your degree.
Schedule
13:30 to 16:00 on 22/03/22 - Islington Mill, James Street, Salford, M3 5HW




3D printing and Lithophane Making

At Islington Mill