Our Story…
When it comes to selecting a top choice university a campus tour is fundamental to build trust with the institution. So, students and tutors have collaborated and built the ManMet Campus on Minecraft. The campus build, primary focuses on the business facilities, showcasing students common areas and lecture halls.
The use of Minecraft started when a group of faculty staff started using Minecraft with the primarily intention to build a basic feature of the Faculty of Business and Law. Thus, as the potential was explored, and in summer 2020 ManMet received attention from Microsoft and national press after recreating the Business and Law building, Minecraft has become an essential focus area for future-leaning opportunities for all individuals to host international events.
ManMet collaborated with Malaysia Multimedia University to recreate the business and law building and the internal infrastructure of ManMet. This project permits new students at ManMet to explore the campus remotely, and Minecraft allows the team to build features such as the covid-19 health and safety measures across the building helping the current student to better orientate and explore the building.
In the current time of a pandemic, Minecraft campus helps facilitate a twenty-first-century approach being an asset to boost the virtual learning environment and empower the student to approach the content in a fun way. Currently, the Minecraft campus is helping to develop tech and non-tech coding units and a wide range of soft skills. Minecraft campus is also helping current and freshers (new students) to help student familiarise themselves around the campus and the new safety guidelines about covid-19 for when they come back, helping to improve their mental wellbeing and a useful tool to engage students from their homes in activities inside the building, acting as a layer between the campus and student.

ManMet Campus – Construction Timeline
The timeline illustrates the schedule of all the progress made during the years contributing into constructing the ManMet campus. Similarly, a future timeline has been created to highlight future construction projects.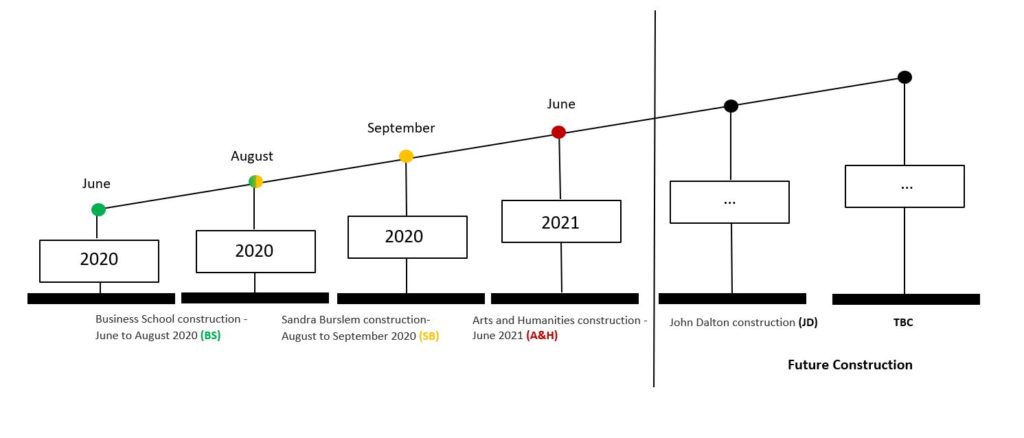 Objectives

Enhance students coding skills and learning experience in a fun way

Allow staff/students to think outside the box and be more creative

Improve students engagement and boost motivation towards learning new concepts
Creator's Interview