What is the Rise Academy?
As offer holders, you are invited to take part in the Summer's Rise Academy – an exciting, bespoke programme of on-line workshops and challenges with a focus on sustainability. Featuring guest speakers from cutting-edge organisations, this is a unique opportunity to engage in this important field while you transition into university study. Your challenge submissions will go before an expert panel with a range of awards given out on completion of the Academy. You will also gain "Rise points" which you can carry forward into your degree study at Manchester Met.
What is Rise?
Rise is Manchester Metropolitan University's award-winning programme that extends your learning beyond the classroom – enhancing critical skills to help your employability, such as creativity, problem solving, design and digital skills.
What will I gain from participating in the Rise Academy?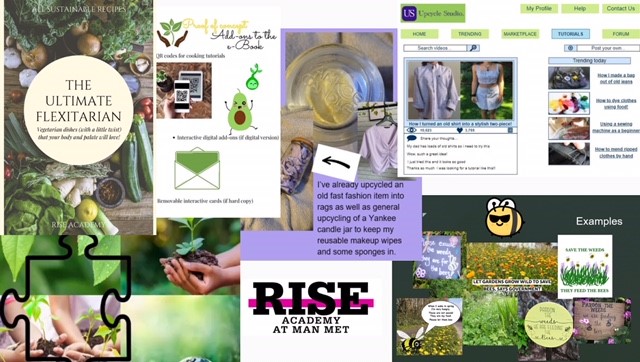 By taking part in the Rise Academy you will hone your skills and develop new ones, learn from experts in practice and industry, and enhance your CV. We have partnered with Hubbub, an environmental sustainability charity, who will share their expertise with you and guide your experience. You will work on different challenges across the programme, exploring innovative campaign ideas around the UN's Sustainable Development Goals. You will also gain 200 Rise points* which you will be able to take into your degree study with you, and by engaging further with Rise, have potential to gain extra academic credit or practice credits added to your university transcript.
Example of participant submissions 2021
What Will it Involve?
You will work with other students hoping to start at Manchester Met in September, and will be mentored by current students. Dates and times for the sessions will be listed in full on the sign-up form. All sessions and engagement will be delivered virtually.
How do I find out more and sign up?
You can read more in this UNAI article. If you'd like to learn more about this exciting opportunity, or sign up, click on the button below. Places are limited so will be allocated on a first come first served basis.
What else can I access now?
In the meantime, please familiarise yourself with the entire Rise site – in particular, the Step up to Study intensives which will support your transition into university wherever you choose to go. As a Man Met student, you will have access to the entire Rise site, with a wide and varying range of free events, activities, internships, workshops and projects to enhance your university experience.

We hope to see you soon!
Click here to register your expression of interest for the Rise Academy
* Please note: Rise points are not part of offer conditions and therefore will not be considered as part of the admissions process