Preparing to Study
How We Will Learn
This course is self-paced and online. We have developed a series of online activities for each week of study to support your learning journey. We understand that it is difficult to find time to undertake study and fit it around your busy lives. Therefore, we have designed online activities that will take around 20-30 minutes to complete to allow you the flexibility to build these into your own study schedule. As much as possible, try and plan these activities into your week.  
We recommend that you create a folder for each week of the course on your desktop (see example below). This will allow you to organise and refer back to your answer templates when required.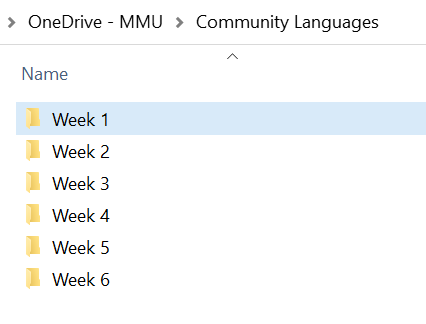 Click the link to access our webinars on Preparing to study. (You will not be able access this content until you have your Manchester Met ID and Password)

Throughout the year, you may wish to explore our study skills workshops and short courses, as well as our wellbeing workshops. These sessions are completely free and any Manchester Met student can book their place online.