The Award Points tool lets you push points towards students who have engaged with your activity. It is the quickest and most simple way of awarding points – but it relies on you registering engagement, recording IDs etc. An alternative method is the use of our MagicLink tool (yes I'm painfully aware that it's a stupid name), which enables you to create a way for students to self-claim points.
To get started, let's give you this new superpower:
You can access the Magic Link tool in the same way as Award Points – head up to the tools menu at the top of the page where you should see a new tool displayed (if not, hit refresh and try again).
The Magic Link form is a bit more involved, though hopefully not too taxing – and you should see the contextual help boxes we used in Award Points to help you along.
The basic building blocks are the same as Award Points; defining a title and establish a levy of points (no student IDs needed here as they'll claim the points themselves). There are two additional bits of information you can optionally provide:
Redirect To Link : if you are running a virtual event, paste the link to the Teams/Zoom/Whatever space here and you'll be given a way of assigning points as soon as participants join the event.
Valid From/To: this makes your magic link time limited. It's good practice to define these for time-bounded events so that points can't be claimed once it's finished. It's also a good idea to give half an hour either side to allow for late/early joiners.
Once you have submitted your form, you will be presented with a new page that looks something like this.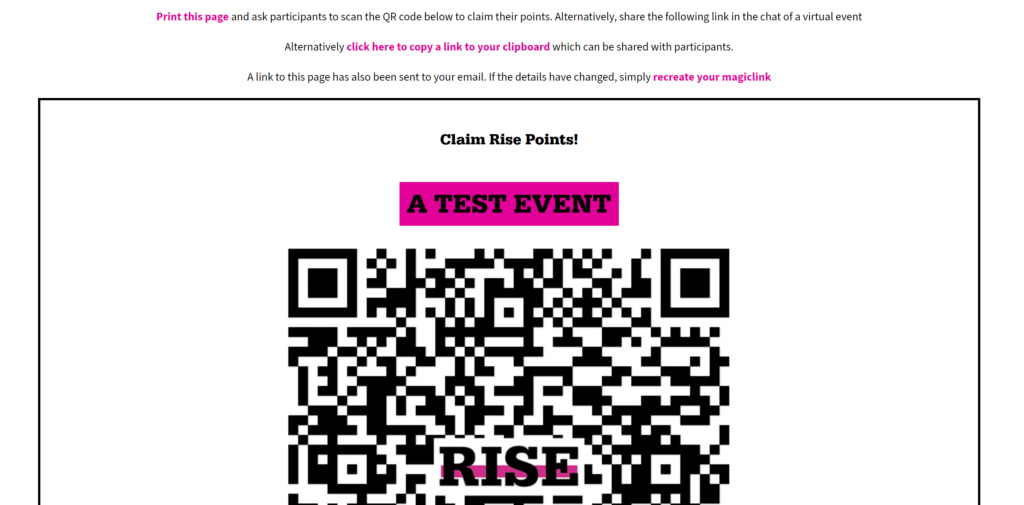 The page gives you three next steps
Print the page, and ask students to scan the QR code with their phone cameras. They will be taken to the Rise website and awarded points.
Copy the link to share with your students using the 'click here to copy a link' hyperlink. If students follow that link, they will be awarded points and, if you have defined a redirect link they will be taken on to that destination (for instance a teams meeting).
Make any corrections by 'recreating your magiclink'. Feel free to do this as many times as you like … nothing is physically stored anywhere on the site so you won't clog up the databases :).
Note
:
Do not share the li
Don't share the link in the browser address bar – this won't work for students (although it will work for you if you need the information again). If you want to share a link with students, click on the pink text that will copy one for you.
You will also be sent a copy of the link to this page directly to your email, should you need to retrieve it in the future.