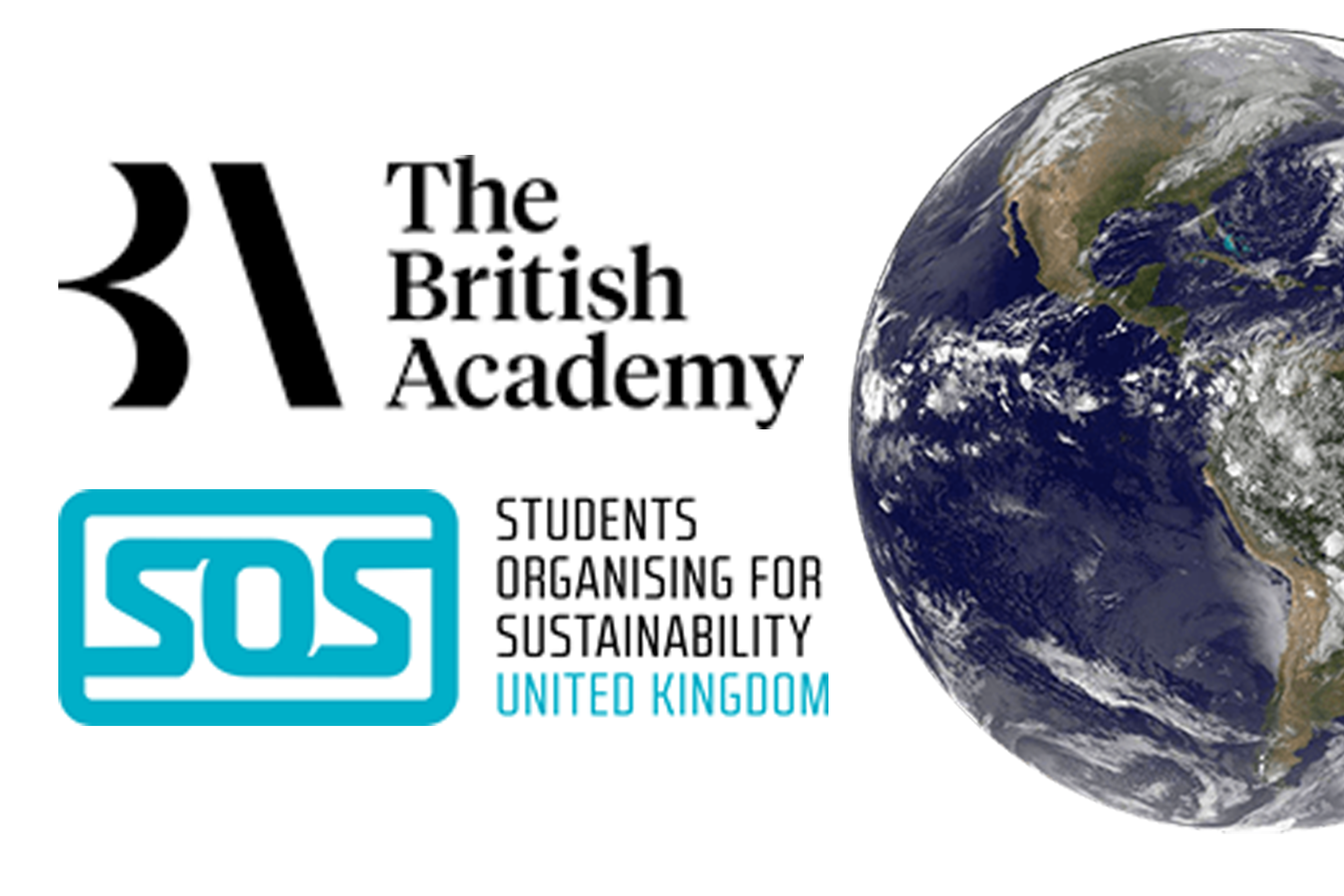 Promote Sustainability Through Arts, Humanities, Social Sciences and Business.
Demonstrate the importance of the Arts, Humanities and Social Sciences in tackling sustainability challenges in an cross-institutional, British Academy supported project.
Basic Info
Promote sustainability awareness through your subject discipline
Collaborate with students across the university
Commitment half a day a week (flexible around your studies), and a number of scheduled workshops (see below)
Open to students in the Faculty of Arts and Humanities and Business and Law
NOTE: The deadline for expressions of interest in this activity has now passed. However, you can add yourself to a waiting list below, in case places become available, or we run a similar activity in the future.
Detailed Info
The British Academy and Students Organising for Sustainability UK (SOS-UK) are working on an exciting collaborative project with Manchester Metropolitan University to demonstrate the importance of arts, humanities and social sciences in tackling sustainability challenges.
This project will take place from November 2020 – February 2021 and is currently seeking a small and passionate group of students to take part to develop impactful project proposals addressing sustainability challenges which will be presented by their university. Students will work in inter-disciplinary groups at their university and present their final proposals in February 2021. The project is open to all students studying in the Faculty of Arts and Humanities or the Faculty of Business and Law.
The project has an expected time commitment of roughly half a day per week (flexible around your studies). This project is supported by Rise, and whilst it is extra-curricular and voluntary, you will earn 300 points for completion, which can be used towards course credit or transcript recognition. It is an exciting opportunity to develop new skills in project management, applied sustainability and problem solving, as well as presenting your project proposal to key decision makers with the possibility of implementation. The entire project will be completed online so there is no face-to-face commitment.
You will get the opportunity to attend a virtual launch event and closing conference hosted by the British Academy where you will hear from leading academics in your field and receive training from SOS-UK to support you in your project development. Upon completion of the project you will receive a certificate of participation from the British Academy and SOS-UK and you will earn 300 Rise points for completion, which can be used towards course credit or transcript recognition.
Further information, including a project timeline can be viewed here.
If you would like to get involved, you can register your interest by submitting an expression of interest. You can do this by booking a 'ticket' below – you'll need to provide a 250 word overview of the reasons for you interest.
The deadline for applications is 4th November 2020.
Successful applicants will be informed of the outcome of their application on 6th November 2020.
Successful applicants should be available to attend the launch event on 11th and 12th November 2020 (13.30 – 16.00 each day).
This opportunity is supported by Man Met Rise – an innovative programme which enables students to gain recognition and credit for extra-curricula learning. Students who successfully complete this opportunity will earn 300 Rise Points
You will need to register for Rise here, before you can apply for this activity – and access the full range of our offer.
The Expression of Interest ticket sales has ended!