Are you looking to apply your Rise learning to real world challenges? Have you discovered a motivation to get out there and have a positive impact in our community? Or maybe you want to jump straight into Rise and get that shiny gold badge! Projects with Rise provide you with an opportunity to do all of these things and much more. Working on a project with Rise puts you in a team of fellow students from across the university to work through a brief or challenge that aims to tackle a societal or business challenge. Sound good? then check out the projects on offer right now here, or keep reading to find out more!
As an earth scientist I look at the world as complex series of interreacting systems that shape everything that happens around us. For example Imagine you're walking on a beach and reach a sea cliff. How did it form? How long has it been there? What kind of rock is it made of? What can that tell us about the environment of the past? Does the rock have any economic value? Is the cliff stable? Is the top of the cliff good place to build? What might happen if sea level changes or storm intensity increases? Can we engineer it to be more stable? How much will that cost? Who should pay for it? Now, expand these questions to the entire coastline, then the country, then imagine you've been tasked with finding a solution for coastal communities threatened by climate change. These questions quickly expand beyond the scope of just Earth science, or any single subject or discipline for that matter!

This is the ethos behind the project-based learning approaches delivered by Rise. No single subject provides all the skills and knowledge necessary to overcome the range of challenges our society currently faces. These problems can also only really be understood by communication across groups and by consideration from multiple points of view. Furthermore, effective equitable solutions can only be reached by considering every member of our community and their individual needs and wants.
Rise projects give you the chance to experience these concepts first-hand. You will be part of a team of students from across the university working together to overcome a challenge. Each challenge will be provided by an expert who will also support and guide your work during the project. A few examples of the kind challenges projects might address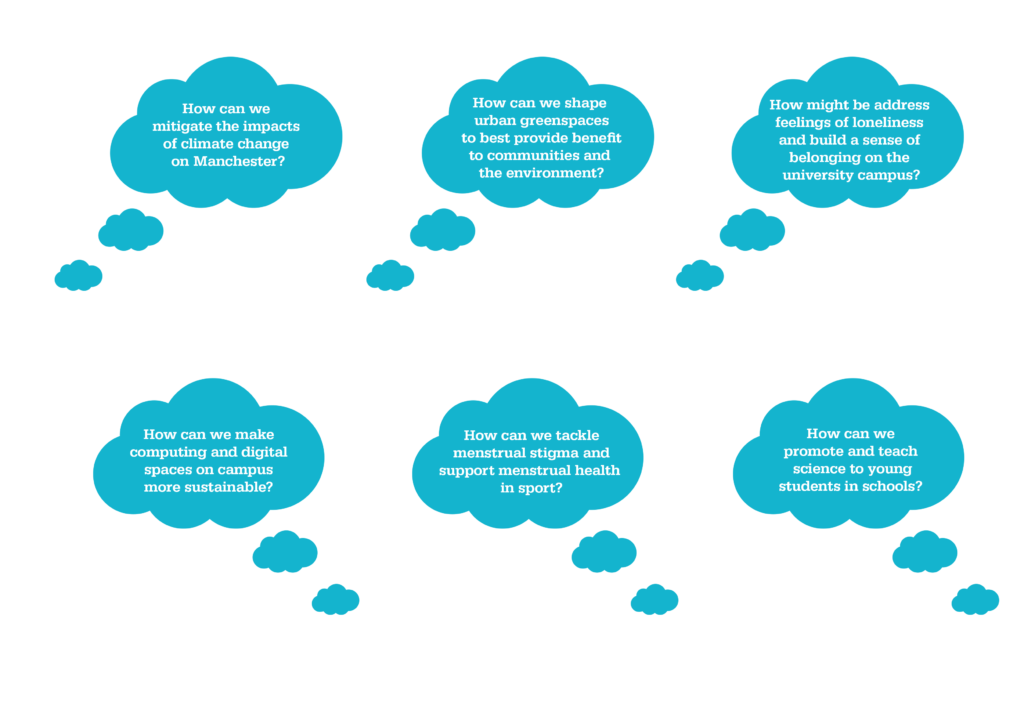 All these challenges can bring together thinking and expertise from across the university. You might have knowledge about the best trees to grow for pollinators; you might be a great graphic designer; you might have unique insights into your culture or community; you might be the kind of person who loves talking and communicating with new people; or you might just love Manchester and want to make it an even better place! Tackling any of the challenges above needs all these qualities and many more. Rise projects are also built to allow you to explore your ideas and use what you are best at to have a real and positive impact on the world.
Additionally, projects provide you with the chance to work with internal and external stakeholders to give you a taste of working out in the real world, and all the challenges this can bring. Rise works organisations across Manchester and beyond to help deliver projects and activities. Check out a few of this in the image below: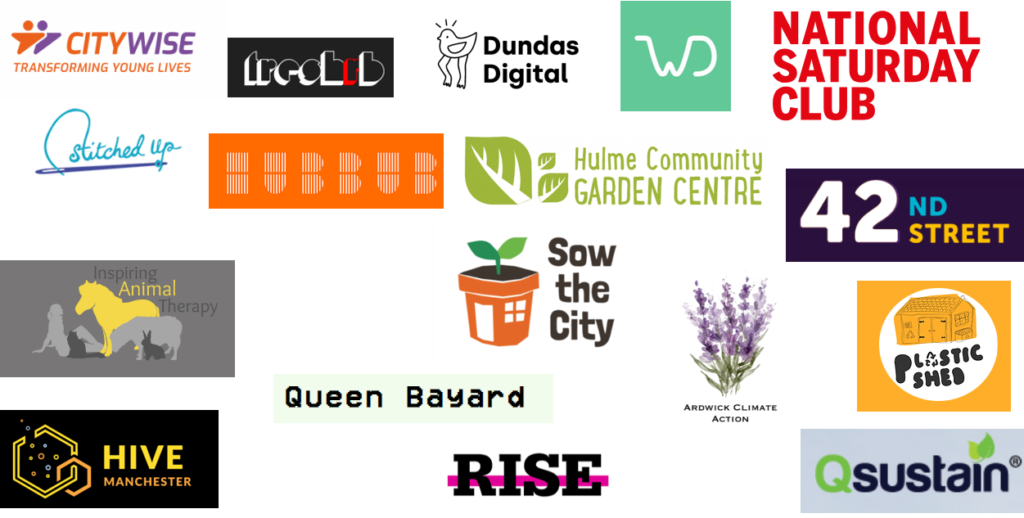 By involving these organisations projects are given real-world impact and the ability to bring about change. You may get to see your efforts and outcomes become part of life on the campus or in the wider community.
This outlook is based on my own experiences in taking part in and delivering project-based learning. One project that really brought this home to me involved working as a team to explore how best to communicate climate science to primary school children. The motivation behind this project was the idea that scientists have the knowledge to educate children in climate science but lack the correct communication skills to achieve this. We knew that turning up with rigorously researched charts and data is not going to be effective in a primary school! Instead, we worked with a team of media and storytelling experts to better craft a message suitable to our audience. This led to a much more human-centred approach with scientists telling stories and creating animations about themselves and what it meant to be a climate scientist.
This approach was only possible by recognising that everyone has something to bring to the table. It also teaches you, as it taught me, to think critically about yourself and identify your own strengths and weaknesses as well as accept new ideas and ways of thinking, even if they seem challenging at first. Project-based learning with Rise is designed to have these outcomes running in parallel with the aim of overcoming societal challenges. This means by taking part you aren't only helping your local community but are also building your own very employable skillset in teamwork, communication and project planning and delivery. You might also be surprised to discover how skills and knowledge specific to your degree can be applied in different fields in a range of careers you hadn't previously considered.
This article has only scratched the surface when it comes to all the benefits that working in a team and project-based problem-solving bring! The rest is up to you to discover by taking part in a project with Rise! You can explore the current projects on offer on the Rise site under Project and Placements. So why not sign up now and take the first step in tackling something new?
To get an idea of what a Rise project looks like in action check out this article on the Rise Fantastic Plastic Fashion Project .
---