Rise Report: Grow Your Own Mushrooms
Last week I attended Rise's Grow Your Own Mushroom Workshop with FungALL. In a spacious room on the university campus, I joined around 20 other students all eager to grow some mushrooms. The workshop was hosted by fungALL, an organisation which works towards improving waste management, while educating people on mushroom cultivation and sustainable urban food systems. Norton and Tom were the mushroom connoisseurs for this workshop and were brilliant at educating and showing us how to grow mushrooms.
Attendance was brilliant, with 22 students including myself. We sat in groups and started off with an enjoyable, educational icebreaker activity; we got given a piece of paper with either a question or answer about all types of food waste, sustainability, and mushroom information. We were set out on an adventure to find either our question, or answer we need. Fortunately for my table, we found our missing question and answer on the table; although it would have been nice to get up and meet other people, we already started to introduce ourselves and started to form a relationship with one another. Later, Norton and Tom introduced us all to themselves and FungALL and educated us on mushrooms and presented us with some VERY cheesy mushroom jokes!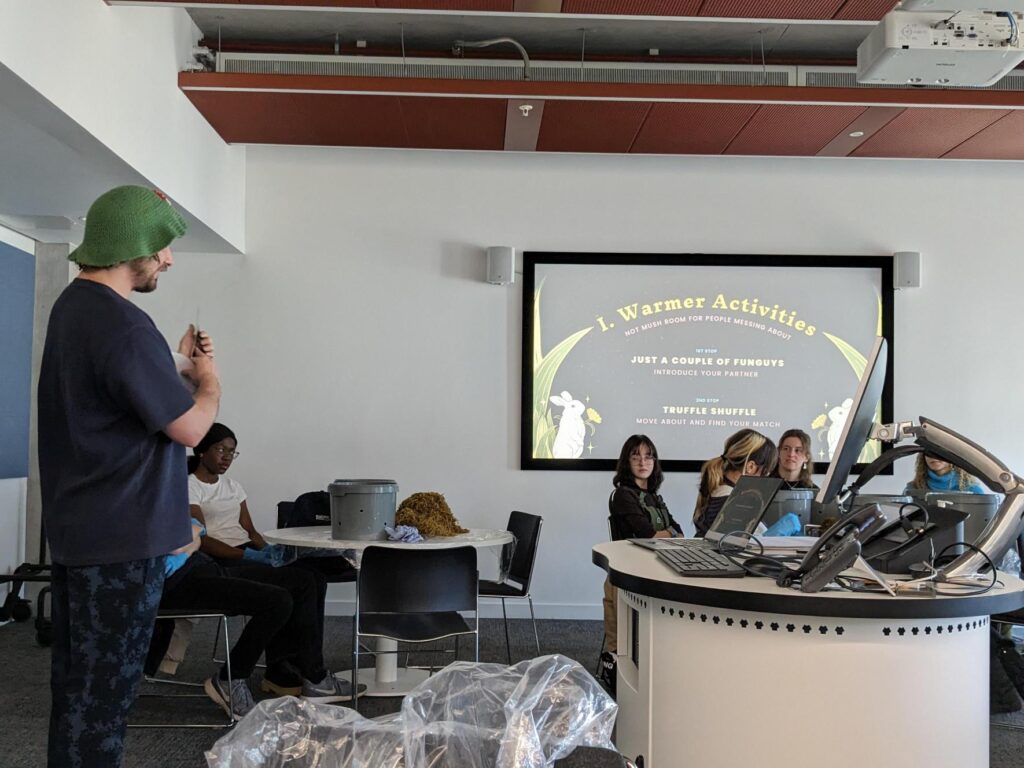 After our heads were filled with mushroom knowledge and facts, we started to get our hands dirty. Personally, I gave up my growing mushroom materials, seeing as I was there on business however, I got my hands just as dirty by helping my fellow students. We filled up our own personal buckets with soil and mycelium and now we wait for them to grow.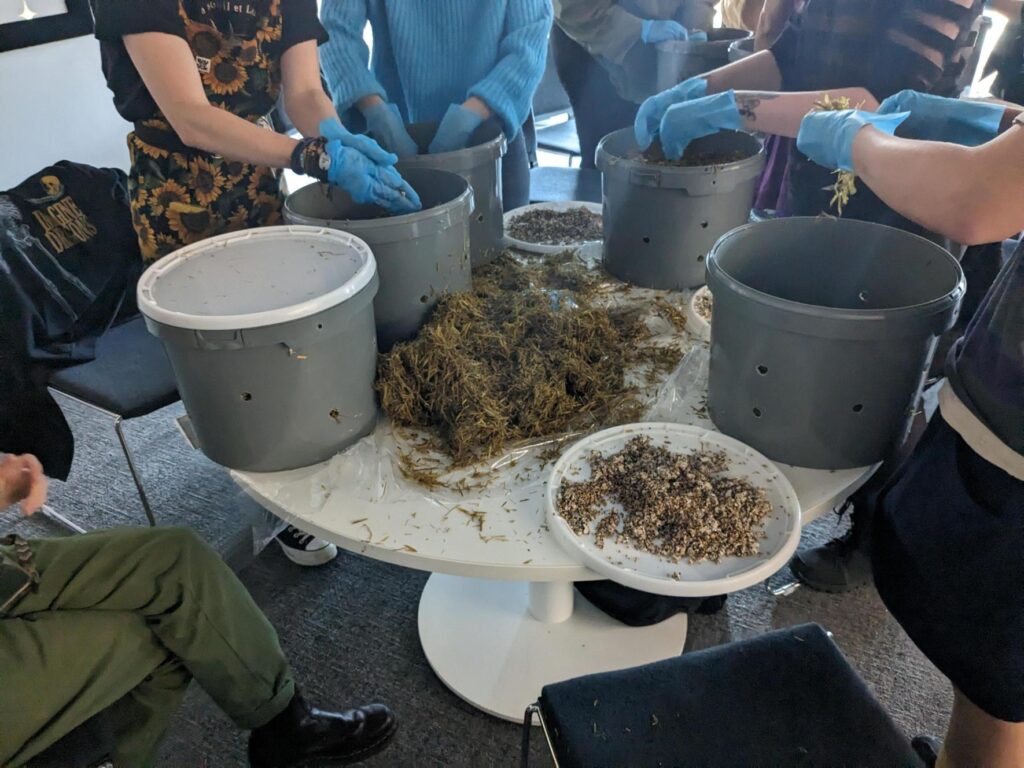 I was a bit nervous going to this event, as I don't have huge amounts of knowledge around sustainability and I don't like mushrooms, I was unsure how I would fit in. A few weeks before I attended Rise's Climate Café which eased my nerves and made me feel welcome regardless of my lack of sustainable knowledge – the grow your own mushroom workshop had the same effect. I laughed with the people around me that I don't like mushrooms and a few of them admitted they also don't like mushrooms! Most attendees, including me, came to the workshop to find ways to be more sustainable in our day-to-day lives, as well as learning new ways to grow our food at home – essentials are getting expensive now! Norton, Tom, and students on my table, again eased my nerves and insecurities around sustainability as they answered all my questions I had and gave me even more information than asked.
Here at Rise, we know how important sustainability is, which is why we have created Bronze, Silver, and Gold badges for this specific topic. We encourage students to take part in sustainable events as it teaches you why the topic is so important; from deducing air pollution; to conserve natural resources; as well as encouraging students to grow their own food and plants – improving mental health and environmental health.
If you're interested in other events like this, we have a Gardening Workshop on 1st November. This would be a great starting point of your sustainable journey.
Don't want to get your hands dirty? Then check out our many self-study kits teaching you about how you can be more sustainable.