Celebrating Rise Research Internships
"Rise Research Internships are a very unique offer at Manchester Met and contribute to building a
strong research culture across faculties and among students and researchers. They bring together
undergraduate student interns, postgraduate student mentors, and academics as hosts."
Prof. Karen Pashby, Professor of Global Citizenship Education / Co-lead Education and
Global Futures Research Group.
During the 2021 – 2022 academic period, Rise offered 76 Research Internships through their
programme, successfully connecting 58 academics with 122 enthusiastic students.
On 27 September 2022, academics and students from Manchester Metropolitan University gathered
at the Grosvenor East Building to celebrate and share their experiences of their Rise Research
Internships.
This interdisciplinary and interfaculty encounter allowed its participants to reflect on their personal
journeys of learning and self-actualisation. Many of the students got encouragement or confirmation
that research was the way to their academic future. Additionally, mentors were glad about the
students' contributions.
Anne Fischer, a Sport and Exercise student who did a research internship on 'Students' Use of
Online Textbooks' said: "I just didn't want it to stop. I felt like it was my own project, and it made
me understand that this is what I want to do."
Tanya Perkins, Anne's PhD mentor followed: "even though I was helping my mentees, it was
reciprocal in as much as understanding their challenges helped me reflect on my own. We bounced
off each other, just giving confidence and encouragement to one another."
During the event, Prof. Karen Pashby mentioned that "research skills are employability skills," and
the attending students were living proof of this statement. Joanna Szupien, a third-year student of
Early Years and Childhood Studies, participated with Dr Su Corcoran on her 'Organisational
Learning in Inclusive Education' research internship, and on her final call with her internship leader,
she was invited to co-edit the resulting journal article.
"It was a brilliant experience. I got a lot from it, and I feel I would still get in the future."
Joanna Szupien, third-year student of Early Years and Childhood Studies.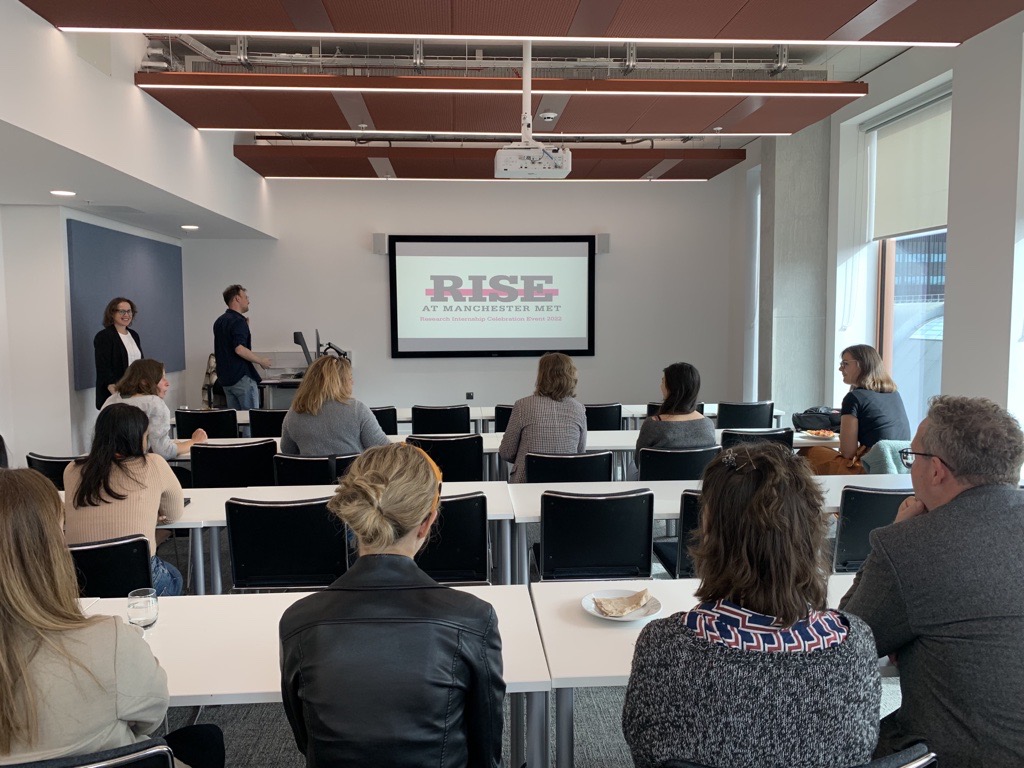 Lauren Smith, who completed a research internship with Dr Chris Mackintosh and the Lawn Tennis
Association to study and analyse measures to prevent ethnic and religious discrimination in the
organisation, was also invited to apply for a vacancy after her internship had come to a close.
Fortunately, through the research internship, she had gained the experience and knowledge required
to become the new Disability Development Partner for the LTA for the south of the country.
Other research interns are looking to continue their research as postgraduate researchers. We have
now seen several Rise research interns build their internships into successful applications for
postgraduate and doctoral study at Man Met. Their internships have become the first step in a career
in research.
Academics also benefit from hosting Rise research internships. They get the chance to connect their
research to pedagogy, try out new ideas and share their research with new audiences. Prof. Fiona
Saunders, Director of LEED, is a passionate pedagogue and researcher, and as such, she is
enthusiastic towards students' involvement in new scholarly disciplines as contributors to
academia.
"Second year undergraduate student Anita Occhio did an awesome work on the Decolonising
Project Management Education Research Internship. I am looking forward to using these student
created resources within my MSc teaching in Engineering Project Management in September at
Manchester Met Engineering."
Prof. Fiona Saunders, Director of LEED.
Rise Internships do not end when the research is finished, but their learning outcomes remain with
students and academics on their next steps. Here at Manchester Metropolitan University, we are
proud to support students achieve their professional goals and ambitions, and together with Rise, we
strive to keep providing them with diverse extracurricular opportunities to allow them to aim higher
and higher every time.
"The most powerful thing about Rise Research Internships is that they always lead to something
else. Whether it's impact on the faculty they come from or creating professional networking, their
outcome is always meaningful."
Dr John Lean, Rise Programme Unit Leader.