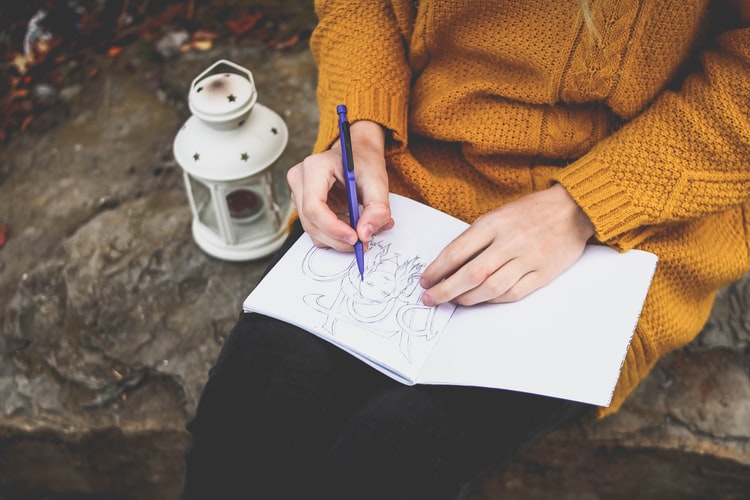 Relaxation through Doodles
This workshop will aim to use drawing and mindfulness to encourage relaxation. We will use drawing as an outlet for thoughts and feelings, practice gratefulness, mindfulness and positive thinking. If you have built up stress and anxiety for life, this workshop session will provide you with various techniques to help you to relax. Mindfulness meditation is a therapeutic practice where we focus on the present to reduce stress.
Practicing gratefulness aims to combat anxious thoughts by reminding yourself of your circumstances, the things you have and the people around you. We will be using pencil and paper to create experimental drawings to exercise our creative thinking and aid us in relaxation. These will include creating your own personal garden, drawing objects that mean a lot to you, and creating whole new shapes you wouldn't think of before. I will aim to create a calm environment for you and encourage positive thinking. We will have short feedback sessions to discuss our experience with the activity, and how it made you feel. The workshop's primary aim is to reduce stress and provide a short time of peace and low pressure. You don't have to have any skill
in drawing to attend this workshop and it would be lovely to have your cameras on to create a calm and inclusive environment.
About the Host:
Aimee Vickers- I am a graphic design student who loves illustration and drawing. I've also been trained to facilitate online workshops relating to health and wellbeing. I am passionate about mental wellbeing and realize students need more support than ever during this time. In my spare time I like to draw and create various illustrations of people, places and my pet Labrador named Holly. Along with my university work, I'm currently writing a story I wish to turn into a comic soon and practicing my illustration skills for this comic. Drawing, even doodling, seems to calm me down after a stressful day full of the pressures of life. I've found exercises and activities that help me, and others reduce stress and anxiety which I will share in this workshop.
You will Earn 3 RISE points