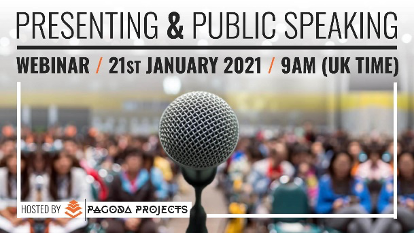 Presenting and Speaking in Public (Pagoda Projects)
This webinar will cover the fear of public speaking, what makes a good public speaker, and speaking and presentation tips.
The outcomes of the webinar are to demonstrate public speaking and presentation techniques, to identify personal strengths and weaknesses as presenters and speech coaching.
Speakers:
Mandy Chung – Founder & Executive Director, Women in IoT. Mandy has over 10 years of professional experience in the consumer electronics and IoT industry. She started off my career as a product manager at Hewlett Packard and ASUS where she discovered my passion for tech then she joins the startup world in 2015. Since joining HWTrek, a B2B SaaS startup raised 4.2 M, she has helped over 500 IoT startups around the world to connect with design & manufacturing resources and provides product development consultancy. Except for acquiring business partners in San Francisco, she also organized events at CES 2016 & 2017.
Accolades include sponsorship by the U.S. Department of State to visit startup organizations in 4 U.S. cities via their International Visitors Leadership Program (2017) and ASUS Best Employee of the Year (2015).
Ryan Hevern – Co-Founder Parkbus Taiwan. Ryan crafts experiences for travelers to find the adventures in Taiwan, and the adventurer within themselves! Low impact, community building trips. He takes great pride in helping put Taiwan on the map for travelers. Through creating marketable content for other businesses, and developing itineraries, his goal is to open the world's eyes to the outdoor adventures and beautiful culture of Taiwan. He creates marketing collateral for businesses or organizations. Using effective photography and videography, in tandem with in depth research and creative approaches to key demographics, he helps companies grow its reach and showcase product and services. He builds effective programs to connect and grow communities. He is experienced in creating large scale events, both paid and volunteer initiatives, to help companies grow their communities and their local CSR initiatives.He builds unique itineraries based on responsible, sustainable tourism initiatives to highlight the lesser known adventures in Taiwan
He is an APRC holder in Taiwan, and open to all possibilities to collaborate, build, and thrive
About the Host
Pagoda Projects are building the world's largest and most inclusive work experience opportunities and cultural immersion programmes, from our home city of Manchester!
Recently, Pagoda Projects have developed an innovative and digitally delivered skills programme, with several key components and a strong focus on improving student's cultural fluency and employability skills by delivering weekly live online events.
Manchester Met students will be invited to Pagoda's exclusive events that offer direct access to high level speakers summarising their industry knowledge and experience, across a huge variety of topics and event formats.
Pagoda welcomes all students, regardless of their academic background and the course they're enrolled onto, with confidence that each events are enjoyable, very relaxed and highly informative.
Website: https://pagodaprojects.com/
You can book this opportunity directly with Pagoda via this link – they will let us know who we need to award points to