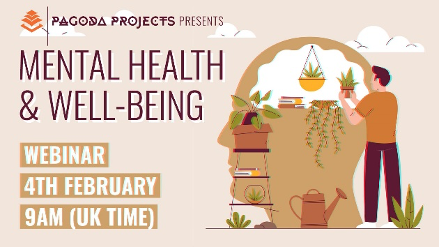 Mental Health & Wellbeing (Pagoda Projects)
How to improve mental health in the workplace and how to build your resistance
We will be looking at the importance of social connections and their relationship with our mental health as well as strategies for managing stress.
Join us to Learn how to build a well-being programme tailored to goals and personal path. Gain Insight into stress management and mental health & how to communicate thoughts on the issues affecting the wellbeing
s hosted by Pagoda Projects. Pagoda Projects are building the biggest & most inclusive global work experience programme. They employ their own teams of professional & approachable people, across 8 incredible destinations. They are ethical, ambitious and passionate about developing positive international relations through the exchange of cultures, customs and foreign languages.
GUEST SPEAKER: TBC
About the Host:

Pagoda Projects are building the world's largest and most inclusive work experience opportunities and cultural immersion programmes, from our home city of Manchester!
Recently, Pagoda Projects have developed an innovative and digitally delivered skills programme, with several key components and a strong focus on improving student's cultural fluency and employability skills by delivering weekly live online events.
Manchester Met students will be invited to Pagoda's exclusive events that offer direct access to high level speakers summarising their industry knowledge and experience, across a huge variety of topics and event formats.
Pagoda welcomes all students, regardless of their academic background and the course they're enrolled onto, with confidence that each events are enjoyable, very relaxed and highly informative.
Website: https://pagodaprojects.com/
You can book this opportunity directly with Pagoda via this link – they will let us know who we need to award points to.
You will earn 5 Rise Points for attending this event.