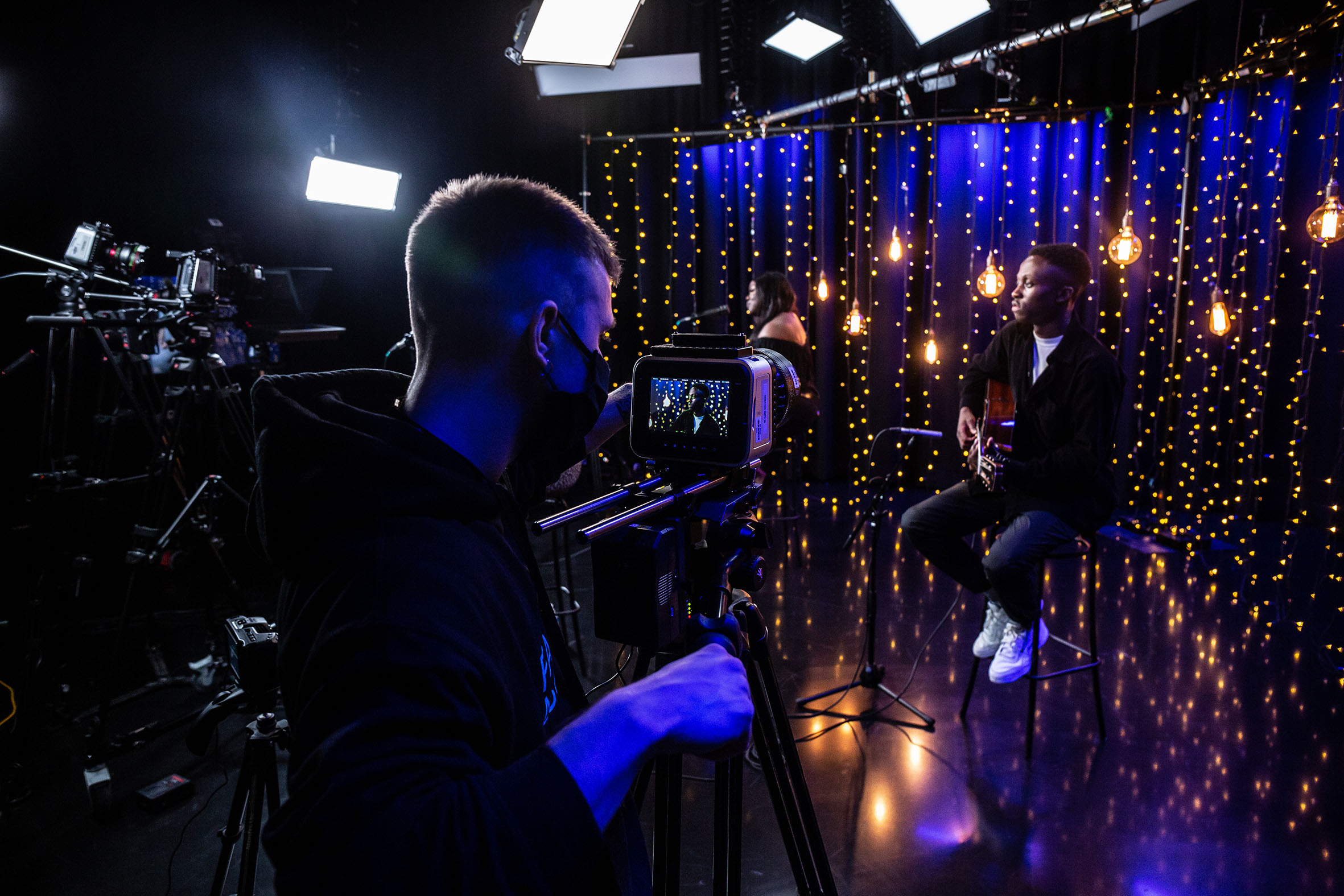 Support a Live Music Broadcast Event (Various Internships)
Contribute to broadcast of an exciting live-music event run by technicians at Manchester Met – with a range of roles from production and post-production, to marketing, journalism, event planning and more. 
In Brief
Engage with technical training in high end A/V equipment from Technical Services and
Participate and produce a creative video to be distributed across multiple platforms
Mentorship from technical experts
Open to all disciplines no prior experience necessary, all training and support delivered
Commit to regular training and mentoring workshops in January/February. Approx 16-20 hours in total, mainly in sessions in the late afternoon and early evening
Gain Rewards of 200 Rise Points, which can count towards recognition in your degree
Important Note: Due to new Government guidelines, this activity has currently been postponed. It will go ahead once restrictions have eased. However, please do not let this discourage you to express your interest by signing up now. We will be in contact with you when restrictions have eased and we have rearranged the activity. Thank you 
Further information.
Art School Live is an exciting project run by Manchester Met technicians and supported by students, which hosts regular broadcast live-music events from within our own campus:
T
Through Rise, the Art School Live is running an open call for interns to work with them on their events which will run through Block 3.
They are looking to work with students from across disciplines who have an interest in live technologies and/or event management who would like to be involved in the planning and production of live musical performances in order to produce a number of outcomes. We have roles around design/branding, production planning and artist liaison, live production (camera, sound and lighting) social media/marketing and journalism that will all work together to deliver an exciting and high quality event. No previous experience in live production or event management is necessary, these skills will be developed throughout the training. Instead we are excited to hear from students who:
Will take responsibility and initiative for a specific role
Will work collaboratively as part of a team
Wish to shape the production design by voicing ideas
Want to develop leadership and communication skills
If you are interested in applying for this opportunity, please grab a ticket from this event, including a 150 word expression of interest, outlining why you are interested. The deadline for this expression of interest is WEDNESDAY 6TH JANUARY at midnight. Please note this does not guarantee you a place on the programme, this is an expression of interest to participate and you will be notified of the outcomes early the next week
Important: Commitments to this activity will likely involve sessions from 16.30 onwards, and will be negotiated with the project team once it is recruited
This opportunity is delivered by Manchester Met Technical Services and supported by Man Met Rise – an innovative programme which enables students to gain recognition and credit for extracurricular learning. Students who successfully complete this opportunity will earn 150 Rise Points. To learn more and access the full range of our opportunities, including this one, register for Rise here.