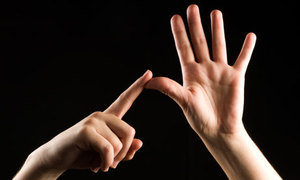 Foundations of British Sign Language
An opportunity to learn the basics of BSL through one-hour online tutored sessions over a six week period. 
Summary
Learn the basics of British Sign Language and better understand deaf culture.
Enhance success with a preparatory self-study online package.
Online Support in a small group, led by a tutor from the Manchester Deaf Centre
Regular Sessions choose from a range of slots in the week, but you do need to commit to the full six week course.
Earn up to 100 Rise Points which can count towards recognition and accreditation.
COMPLETE OUR ONLINE SELF-STUDY PACKAGE FIRST
We will be prioritising booking for this course for students who have already completed our Deaf Awareness and BSL Intensive, which will act as the induction to the online course. If you are interested in the course, we encourage you to complete this intensive as soon as possible
Detailed Info
British Sign Language is a rich and beautiful visual language comprising of hand gestures, facial expressions and body movements. British Sign Language (or BSL, as it is more commonly known) was recognised by the UK Government as a language in its own right in 2003 and is the preferred language of over 125,000 people in the UK today. It is an extraordinary, complex language and whilst it is heavily based in English vernacular it has its own syntax and grammar systems. This course will involve two parts.
An online self-study package to enable you to familiarise yourself independently with the basics of BSL and deaf culture.
Six one-hour tutorial sessions with a tutor from the Manchester Deaf Centre in a small group via zoom
We at Manchester Deaf Centre are passionate about teaching this beautiful language, raising deaf awareness, altering misconceptions and breaking down the barriers between the hearing and D/deaf communities. On this course you will continue to explore the foundations of British Sign Language, learning about numbers and time, how to introduce yourself and ultimately have basic everyday conversations. Expand your mind, expand your skills, explore and engage with a whole new community. Join us and start your British Sign Language journey now.
PLEASE NOTE:
Due to limited capacity, students may only take part in ONE of the Rise language offers.
You must be able to attend all six dates in the slot you sign up for through Block 4
Due to the nature of learning sign language, you will need to attend with your camera and microphone turned on
Please only reserve a space if you are happy with all three of these points
Note that Easter bank holidays mean that there may be a break in this series. The dates for each series are as follows:
Mondays: 1st, 8th, 15th, 22nd, 29th March and 12th April
Tuesdays: 2nd, 9th, 16th, 23rd March, 30th March and 6th April
Wednesdays: 3th, 10th, 17th, 24th, 31st March and 7th April
Thursdays: 4th, 11th, 18th, 25th March and 1st, 8th April
Fridays, 5th, 12th, 19th, 26th March  and 9th, 16th April
This opportunity is provided by the Manchester Deaf School, and supported by Man Met Rise – an innovative programme which enables students to gain recognition and credit for extra-curricula learning. Students who successfully complete this opportunity will earn 100 Rise Points (40 for the pre-course and 60 for the six-week tutored sessions)
Bookings for this opportunity will open when Block 4 timetables have been released, and students who have completed the Deaf Awareness and BSL Intensive will be notified first.