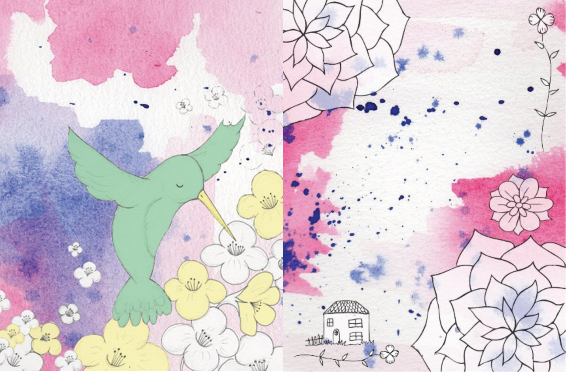 Drawing For Well-Being
Draw your way back to well-being by drawing your joy.
With 2020 having been the difficult year it has been, it is more important than ever that we put ourselves and our well-being at the top of the list. This session is an hour out of the usual stresses and worries of life and a chance to immerse yourself in drawing. During this event you will be led through a doodle style draw-along where I will share some mindful strategies so that you can prepare to draw in a way that allows you to comfortably access your creativity. I will also sign post some artists who are creating truly fantastic pieces out of doodle styles.
You might not have drawn since you left school but that's ok. Through a holistic mark making process we will create doodle themed pattern designs.
Please ensure to have Paper and a  pencil at hand if you wish to draw along.
You may wish to use fine liners and felt pens/Promarkers to colour in your illustrations after the session.
About the host:
Fiona is an illustrator and painter based in Stockport. She now teaches people how to illustrate and to develop their own unique style.She completed a Masters in Drawing at Wimbledon College of Art in 2007. After starting the birth of her first child in 2008 Fiona felt compelled to create characters for product design, greetings cards and started a craft business Fi&Me with her younger sister Lucy. This led on to being commissioned to create personalised illustrations, greetings cards and a children's book. It wasn't until lockdown in March 2020 that Fi took her drawing lessons online which has opened up a whole new world of teaching potential.  She now sells online art courses and also coaches creatives who want to start a business with her course Let Go & Sell Art. Fi is passionate about helping people to use drawing to access their innate creativity and well-being, in a mindful way. With a background in drama teaching, education support and as a behaviour mentor she has seen first-hand the therapeutic qualities that drawing can have on the mental well-being of pupils. Her sessions also encourage friends and families to draw together.
Website – www.fionameakin.com
Facebook – www.facebook.com/fionaillustrates
Instagram – www.instagram.com/fionameakin
You will earn 3 Rise Points for attending this event
Sold out!