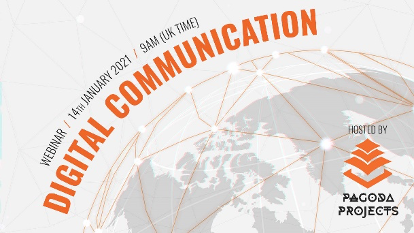 Digital Communication (Pagoda Projects)
This webinar will cover: What is digital communication and the different aspects of it? Emerging and current digital communication trends, Brand Voices for different platforms, and Skills that are sought after in digital communication.
The outcomes of the webinar are to understand what constitutes digital communication and the different tools used, to learn what are the current trends and how experts see the future planning out, and to gain an understanding into what skills are required in the sector.
Speaker:
Paul Espinas – Founder at UpUp App: Paul is a Philipino who has a BA in Development Communication and Communication & Media studies. He has been in Vietnam for over 7 years and previously worked in marketing for Vietnams largest online recruiting company; VietnamWorks. He has founded several companies including a start-up that is part of TicketBox and his more recent venture UpUp App.
About the Host
Pagoda Projects are building the world's largest and most inclusive work experience opportunities and cultural immersion programmes, from our home city of Manchester!
Recently, Pagoda Projects have developed an innovative and digitally delivered skills programme, with several key components and a strong focus on improving student's cultural fluency and employability skills by delivering weekly live online events.
Manchester Met students will be invited to Pagoda's exclusive events that offer direct access to high level speakers summarising their industry knowledge and experience, across a huge variety of topics and event formats.
Pagoda welcomes all students, regardless of their academic background and the course they're enrolled onto, with confidence that each events are enjoyable, very relaxed and highly informative.
Website: https://pagodaprojects.com/
Man Met students can book tickets for this event from the 18th December, 16:00pm 2020 via this page.