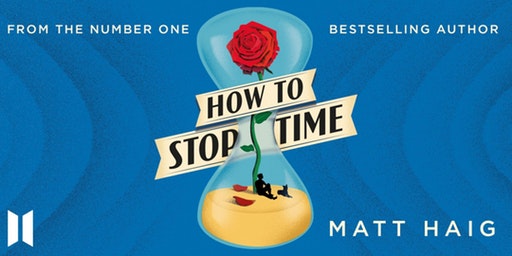 Claim a Free Copy of Matt Haig's 'How to Stop Time'
Take a step into Literature with a winter reading challenge.
Summary
Claim a Free Book – claim one of 150 free 'How to Stop Time' books, posted to your chosen address
Step into Literature – a winter reading challenge, a chance to discuss your experience
Escapism – escape from the realities of the world and enjoy the world created for you in the form of a story
Completely Independent – read at your own time and pace
Detailed Description
Matt Haig is an award-winning author who writes both fiction and non-fiction for children and adults, often in the speculative genre.
'How to Stop Time' is a love story across the ages – about a man lost in time, the woman who could save him, and the lifetimes it can take to learn how to live.
The book is a 'The Sunday Times Number One Best Seller', claiming praise from a number of people including Neil Gaiman saying "Matt Haig has an empathy for the human condition, the light and the dark of it, and he uses the full palette to build his excellent stories." And, the Sunday Times said, "A beguiling read, filled with warmth and humour, and a vibrant celebration of the power of books to change lives."
The book has even been commissioned for a film by Studio Cannel, with Benedict Cumberbatch as the lead.
Important: The limitations around access and social distancing may mean that there is a slight delay dispatching your equipment. At the moment, we're trying to ship things out once a week – but please don't panic if things take a little while. You'll get a confirmation email on booking, and another when the kit is shipped to you.
Sold out!