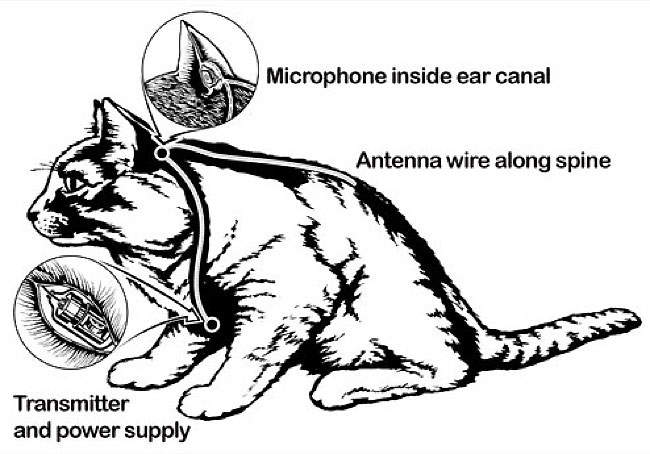 Acoustic Kitty: A 3D Audio Spy Thriller
Reimagine a 1960s declassified CIA project, involving a spy cat surgically implanted with listening devices, as a 3D immersive sound experience.  
In Brief
Design – an immersive audio prototype using interactive 3D soundscapes.
Create – the expanded documentary story-world of Acoustic Kitty by producing audio assets.
Explore a range of audio tools – discover BBC Makerbox Tool, Audio Orchestrator, along with games engines to tell the story of spy cat Acoustic Kitty.
Lead the acoustic surveillance – collaborate as part of a student team who will author a vision of the immersive audio prototype.
All Disciplines Welcome – creative and energetic students from any subject
Earn Rise 300 Points – plus more engaging creative and storytelling workshops throughout the project.
Detailed Information:
The Backstory – Acoustic Kitty is a recently declassified CIA project from the 1960s that attempted to use cats as spies for the U.S. government. However, there was just no herding the cat as she'd wander off and get bored, distracted or hungry. The first Acoustic Kitty's mission was to eavesdrop on two men in a park outside the Soviet compound on Wisconsin Avenue in Washington, D.C. The cat was released nearby but was hit and allegedly killed by a taxi almost immediately. Sources within the CIA dispute this, as former Director of the CIA's Office of Technical Service, Robert Wallace claims that the cat "lived a long and happy life afterwards".
What you'll do – using 3D sound, you'll produce an online spy thriller about the Acoustic Kitty project. With today's world of digital listening devices, you will look at ideas around acoustic surveillance. You will learn how to write and make creative audio 'assets' for your project and then use games engines like Unity amongst other kinds of 3D audio production to tell your story in 3D space. Man Met academics in the new School of Digital Arts – Hayley Walsh, Marsha Courneya and David Jackson will mentor you and will work in small teams to produce your own audio experience.
Which students should participate? We want students from all disciplines to contribute to this exciting creative opportunity, from writers, statisticians and computer scientists to digital artists, educators and more. You'll collaborate as part of an interdisciplinary team, using your existing subject skills and developing new ones. Pretty much anybody will find a home to learn something new and contribute productively.
When does it run and what is the commitment? This activity will run from the beginning of Block 4 through to the end of the academic year. It will consist of a flexible working process, though on average you should expect to commit about three hours per week in independent work, online team interactions and 'huddles' through Microsoft Teams. In addition, we will curate an ongoing programme or workshops to help you 'upskill' along the way. You will earn a full 300 Rise Points on completion of this activity.
How do you get involved? This activity is available by expression of interest. When you book a 'ticket' you will be asked to give us a very brief account of why you would like to take part. We will try to make as many places available as possible, but if it is very popular we will need to prioritise based on these expressions of interest.
The deadline for this Expression of Interest is the 8th March.